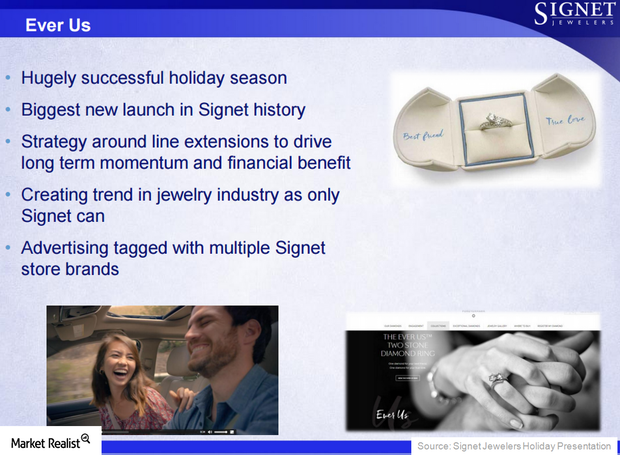 Signet Jewelers' Ever Us Is Setting Trend for Jewelry Industry
Ever Us, a new trend
Through its consumer market research program, Signet Jewelers (SIG) identified the need for jewelry that represents the bond between two people. So Signet launched a new collection called Ever Us in October 2015, just before the start of the holiday season. It had a comprehensive marketing program, making the collection available in Signet's entire national store banners across all geographies in which the company operates. These areas include the United States, the United Kingdom, and Canada.
Article continues below advertisement
Ever Us performance
Ever Us did very well across all store brands and all geographies during the holiday season, By the end of the season, Signet ran out of stock in certain carat sizes in certain store brands. On a positive note, consumers considered Ever Us a gift-giving brand instead of a collection only for couples. The collection also performed well in the United Kingdom and Canada, where it wasn't supported with television advertising.
Extensions for Ever Us
Looking forward, Signet expects to come up with an extended line of products in its Ever Us collection. Ever Us is currently available only in one ring style and five carat sizes. Signet plans to test the Ever Us extension in the spring season with various ring, bracelet, and necklace styles to find out what works best. The company expects to launch the extensions only in the next holiday season.
Valentine's Day strategy
Signet will be heavily advertising Ever Us and plans to maintain the stock level for Valentine's Day. It will advertise Ever Us in Canada for Valentine's Day, which it didn't do during the holiday season.
Signet's peers in the jewelry industry (XRT), including Tiffany (TIF) and Fossil Group (FOSL), also introduced new merchandise for the holiday season. Signet, Tiffany, and Fossil Group are all part of the iShares Russell 1000 Growth ETF (IWF). Together they make up 0.12% of the portfolio holdings of IWF. Consumer discretionary companies, including Signet and its peers, make up 21.2% of the holdings of IWF.