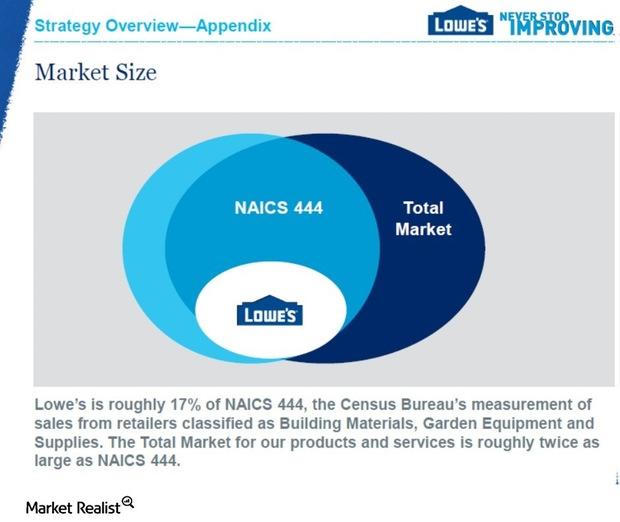 Porter's 5 Forces: Lowe's Position in a Competitive Industry
Porter's five forces: product differentiation and ease of substitution
Lowe's (LOW) operates in the home improvement industry where most products, especially building materials, are largely standardized and undifferentiated. Therefore, customers would find it relatively easier to switch suppliers without significant impact either to the pocket or the quality of merchandise purchased.
Article continues below advertisement
Porter's five forces: threat of new entrants
The threat of new entrants to the industry is relatively high, particularly when the housing market is on an upswing. However, new entrants would find it hard to establish a market presence and reputation on the same scale as Lowe's. Besides, an upswing would tend to benefit big-box retailers like LOW and HD more than the fringe players.
Porter's five forces: degree of competition in the home improvement industry
Article continues below advertisement
Porter's five forces: bargaining power of buyers
Due to high competition and a largely undifferentiated product, the bargaining power of customers is high. As a result, both retailers tend to compete on a service differentiation basis. Both firms employ a superior customer service ethos and tech enhancements to attract and retain customers.
LOW and HD also possess a one-stop shop advantage that most other players don't offer. Their store base is also the largest, which ensures customers can expect the same degree of service nationwide. Besides, both retailers (XRT) (RTH) have begun offering a much wider assortment online, which enables wider choices and has helped the companies to grow sales in a highly competitive industry.
Porter's five forces: bargaining power of suppliers
Both Lowe's and Home Depot are large customers for several vendors in the industry. Due to their large size, both retailers enjoy significant economies of scale and purchasing. Their purchasing decisions affect several large companies along the supply chain, and thus the companies have moderately high bargaining power with suppliers.
For example, Lowe's accounted for over 10% of Valspar's (VAL) sales or over $400 million last fiscal year. VAL operates in the paints and coatings business. Lowe's sales also accounted for between 8% to 9% of revenue for Stanley Black and Decker (SWK) in its last fiscal year.
LOW, HD, and SWK are S&P 500 Index components. Together they account for 1.4% of the holdings in the SPDR S&P 500 ETF (SPY).