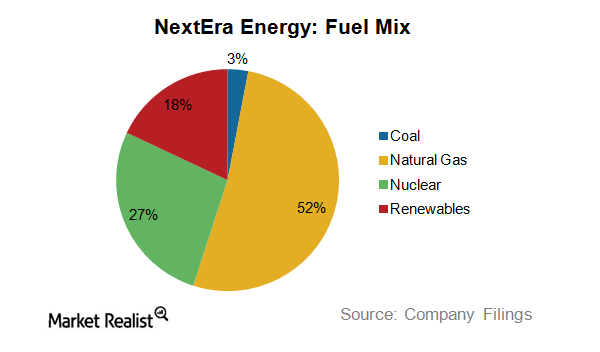 NextEra Energy Seeks Capacity Addition Using Renewables
By Vineet Kulkarni

Jan. 18 2016, Updated 1:35 p.m. ET
NEE's fuel mix
NextEra Energy (NEE) has one of the healthiest generation mixes among its industry peers. It uses natural gas as its main energy source and has a negligible dependence on coal for power generation.
Of the company's total 43,000 megawatts of capacity, 26,000 megawatts are operated by Florida Power and Light, NEE's principal subsidiary, which operates as a regulated entity. The remaining 17,000 megawatts are operated by NEE's competitive segment, NextEra Energy Resources.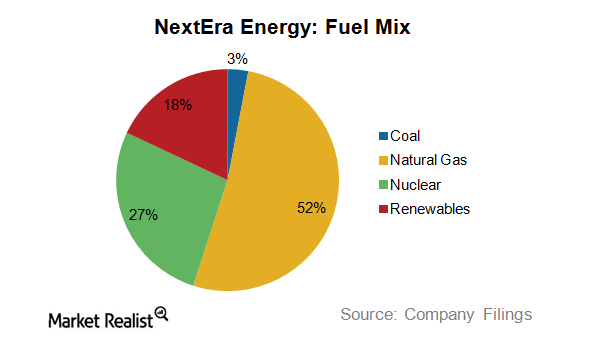 Article continues below advertisement
Capacity addition using renewables
NextEra Energy is a global leader in wind and solar power generation. Nearly 17% of installed wind capacity and 14% of installed solar capacity in the United States are operated by NextEra Energy.
NEE is further expanding its renewables footprint by adding cleaner infrastructure assets. During the nine months ended September 30, 2015, NextEra Energy Resources added 225 megawatts of wind capacity and 115 megawatts of solar generation capacity.
By 2019, NextEra Energy expects to invest $13.7–$15.1 billion into new wind projects with a total capacity of 3,300 megawatts and solar projects with a total capacity of 1,900 megawatts. This planned investment also includes natural gas (UNG) infrastructure investments, nuclear fuel, and maintenance of existing assets.
In November 2015, NextEra Energy agreed to sell its two natural gas–fired power plants to Energy Future Holdings for $1.6 billion.
Unlike NextEra, utilities such as Duke Energy (DUK), FirstEnergy (FE), and American Electric Power (AEP) are very reliant on coal for power generation. NextEra derives only 3% of its power from coal (KOL), while Duke derives ~45% of its power from coal. FE and AEP generate more than 50% of their total power using coal.