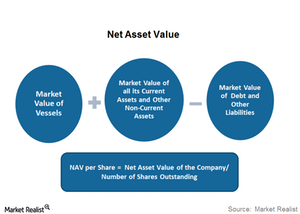 How Does Net Asset Value Measure Navios Maritime's Valuation?
What is net asset value?
NAV (net asset value) is a valuation method under which a company's value is equal to the difference between its assets and liabilities. It is based on the same concept as net worth for individuals. Where the current market values of assets and liabilities differ significantly from the book value, the current values are considered for NAV. When the future cash flow streams are negative or non-existent, analysts often use NAV to value companies whose major value lies in the physically held assets. NAV is usually quoted on a per share basis.
Article continues below advertisement