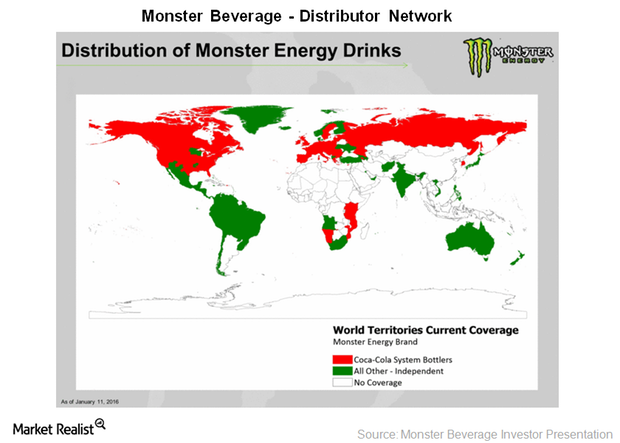 Monster Beverage Provides an Update on Distribution Transition
Distribution transition
At the investor meeting held on January 12, 2016, Rodney C. Sacks, Monster Beverage's (MNST) chairman and CEO, provided an update on the transition of the company's distribution to Coca-Cola's (KO) network. Coca-Cola purchased a 16.7% stake in Monster Beverage in June 2015. As part of a strategic deal between the two companies, Coca-Cola will expand Monster Beverage's distribution in the United States and Canada and will become the company's preferred global distribution partner.
Article continues below advertisement
Article continues below advertisement
According to Monster Beverage's CEO, the transition will be beneficial for the company, as Coca-Cola has a deeper and more extensive reach than the previous distributors, especially in categories such as food service. Beverage behemoths Coca-Cola and PepsiCo (PEP) have extensive distribution networks around the globe. Some of the brands of the Dr. Pepper Snapple Group (DPS) are distributed by Coca-Cola–affiliated and PepsiCo-affiliated bottlers.
North American distribution
Monster Beverage has transitioned a majority of its distribution in North America to the Coca-Cola system, except in three states: Minnesota, Wisconsin, and Arkansas. The company's CEO stated that these three states have slightly different franchise laws. He added that the company is in the middle of an arbitration proceeding against Wisconsin distributors. In the next six months, the company expects to have more clarity on the situation and on the possibility of a transition to the Coca-Cola system.
Monster Beverage and Coca-Cola together constitute 9.2% of the iShares U.S. Consumer Goods ETF (IYK) and 3.7% of the First Trust Consumer Staples AlphaDEX Fund (FXG).
Article continues below advertisement
Transition in international markets
Monster Beverage's distribution around the world is split between the Coca-Cola system's bottlers and independent bottlers. The company expects some of the independent bottlers to be transitioned to the Coca-Cola system in the near future.
Monster Beverage has essentially transitioned its European network to the Coca-Cola system. The company has reached agreements with bottlers in Spain and Portugal. At the investor meeting, the company's CEO stated that the Spanish bottlers will start selling in the beginning of February.
In its 3Q15 conference call, Monster Beverage disclosed an agreement with Coca-Cola HBC (Hellenic Bottling Company) that will apply across 28 countries, up from the current 14 countries handled by Coca-Cola HBC. The countries where distribution rights will transition to Coca-Cola HBC include Italy, Romania, Ukraine, Bosnia, Croatia, Serbia, and Slovenia.
Monster Beverage is facing some delay in the transition to the Coca-Cola system in certain regions like South America, where the bottling arrangements are more complex.