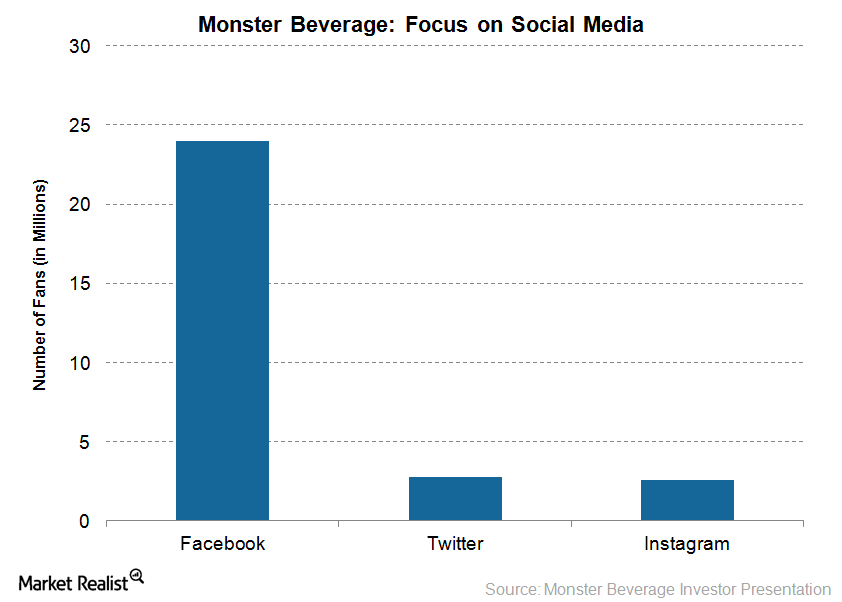 Monster Beverage Increases Its Advertising Efforts
Marketing efforts
Monster Beverage (MNST) is ramping up its advertising and marketing efforts to boost its sales. In the investor meeting held on January 12, 2016, Rodney C. Sacks, Monster Beverage's chairman and CEO, stated that the company is stepping up its marketing efforts and investment in social media. Monster Beverage enjoys huge popularity on social media. It has 24 million fans on Facebook (FB), 2.8 million fans on Twitter (TWTR), and 2.6 million fans on Instagram.

Article continues below advertisement
Targeting younger demographic
Monster Beverage's advertising efforts are often associated with adventure sports in order to target a younger demographic. Aside from sports, Monster Beverage sponsors several music bands. In the investor meeting, Monster Beverage's CEO stated that the company achieved success with the sponsorship of action sports, especially the X Games, an annual event focused on extreme sports.
In 2015, Monster Beverage signed a multiyear partnership with Ultimate Fighting Championship, or UFC. The company's CEO stated that this sponsorship exposed the brand to new consumers both in the United States and internationally. The sponsorship with UFC, which is a leading mixed martial arts organization, is helping Monster Beverage attract consumers in the 18–34–year-old demographic.
Monster Beverage has also reentered the drag racing sport, whose fan base mostly comes from blue-collar consumers.
Advertising expenditures
In fiscal 2014, Monster Beverage spent ~7.0% of its net sales on advertising. Among other nonalcoholic beverage companies, Coca-Cola (KO), PepsiCo (PEP), and the Dr. Pepper Snapple Group (DPS) spent 7.6%, 5.9%, and 7.7%, respectively, of their fiscal 2014 sales on advertising and marketing.
Monster Beverage and these three beverage companies together constitute 0.1% of the iShares Russell 1000 ETF (IWB) and 10.7% of the iShares Global Consumer Staples ETF (KXI).