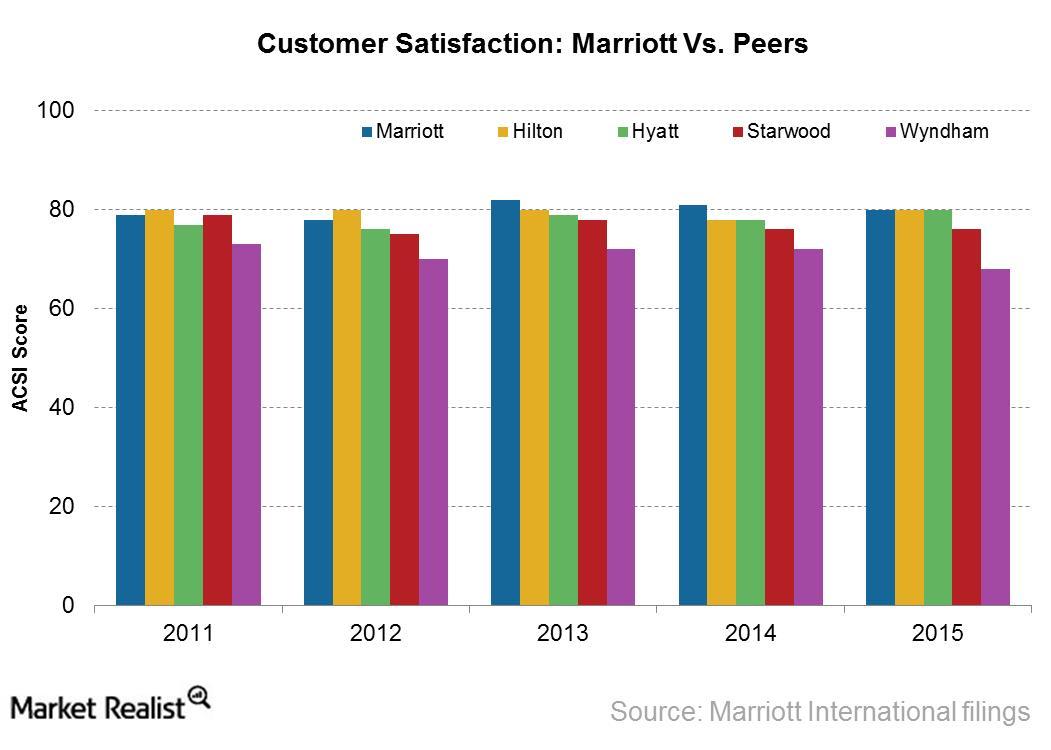 Marriott International in the Eyes of Customers: Outside Looking In
Weighing the importance of brand loyalty and repeat business
A high level of customer satisfaction is very important for any hotel company. This is because brand loyalty and repeat business are critical for survival in the business. Marriott International (MAR) has been able to achieve a high customer satisfaction over the years, according to various surveys such as ACSI and J.D. Power Guest Satisfaction Survey.
Article continues below advertisement
Article continues below advertisement
Customer satisfaction, customer satisfaction!
In 2015, Marriott topped the ACSI (American Customer Satisfaction Index) survey with a score of 80. It also topped the survey in 2014 and 2013, with scores of 83 and 81, respectively. Marriott's brands have likewise performed well across all the segments during the years.
But Hilton Worldwide Holdings (HLT) and Hyatt Hotels Corporation (H) shared the top position with Marriott in 2015, with scores of 80. By comparison, Starwood Hotels & Resorts Worldwide (HOT) scored a 76, and Wyndham Worldwide Corporation (WYN) scored a 68.
The J.D. Power Guest Satisfaction Index measures the hotel customer satisfaction in the US and Canada. The index ranks the brands across different segments, and the Ritz-Carlton received the highest score in the luxury segment, while at least one other Marriott brand scored in the top five in the upper-upscale, upscale, upper midscale, upper extended-stay, and extended-stay segments.
Investors can gain exposure to the lodging sector by investing in the First Trust Consumer Discretionary AlphaDEX Fund (FXD), which has 9.3% of its total portfolio in the lodging sector.
Article continues below advertisement
Marriott International's loyalty program
Marriott's loyalty program, Marriott Rewards, was ranked fifth with a score of 717 in the overall customer satisfaction index ranking published by the J.D. Power 2015 Hotel Loyalty/Rewards Program Satisfaction Report. The survey measured maintenance and management, ease of redeeming points or miles, ease of earning points or miles, reward program terms, the variety of benefits offered, and customer service.
In 2014, Marriott ranked first, with a score of 707. Some of the reasons for scoring high in this loyalty program survey is that customers have an option redeem their points in Marriott's wide network of more than 4,100 hotels, and Marriott allows customers to choose any day to redeem points for free rooms.
Now let's take a closer look at Marriott's expansion initiatives over the years.