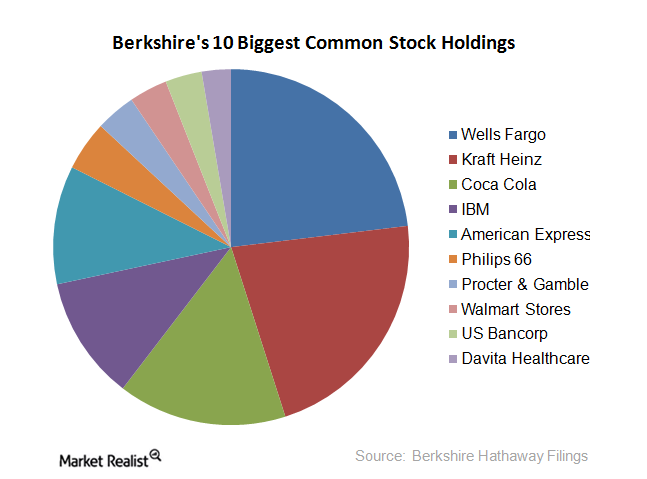 A Look into Warren Buffett's Portfolio in 2015
Warren Buffett's Berkshire Hathaway is the largest shareholder in IBM
Previously in the series, we discussed that though Warren Buffett is not very keen on the technology space, IBM (IBM) is one of the top five holdings in his investment portfolio.
As of September 30, 2015, Warren Buffet's company Berkshire Hathaway owned about 81 million IBM shares. With an 8.3% stake in IBM, Berkshire Hathaway is the largest shareholder of IBM. Berkshire Hathaway started adding IBM to its portfolio in 2011. It paid approximately $11 billion to claim a 5.5% stake in the company. The company went on to increase its share in IBM through share buybacks and share repurchases.
Apart from IBM, Wells Fargo (WFC), Kraft Heinz, The Coca-Cola Company (KO), and American Express (AXP) are the companies that make up approximately 67% of Berkshire's portfolio.
Article continues below advertisement
IBM's slow transition to cloud poses challenge
IBM's slowness in accepting the importance of the cloud's overtaking the IT (information technology) space and stiff competition in the cloud space have impacted its revenues.
Relatively new companies such as Salesforce (CRM) are aggressively taking up cloud space, putting IBM in a tight position. The company's software revenues also suffered as its latest fiscal 3Q15 results show, owing to its transition toward the cloud space.
Considering IBM's uncertain situation in the software space, wherein peers such as Microsoft are making bigger strides, industry analysts and markets have questioned Berkshire's investment in IBM. In response to this, Berkshire stated, "We expect the fair value of our investment in IBM will recover and ultimately exceed the cost."
You can consider investing in the Vanguard Dividend Appreciation ETF (VIG) to gain exposure to IBM. IBM makes up ~3.4% of VIG, but investors who would like application software exposure could consider this ETF, as application software makes up ~5.4% of VIG.