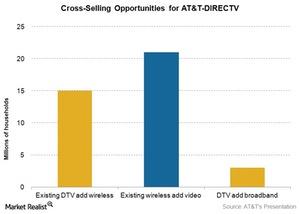 What Kind of Value Does Verizon See in Quad-Play Services?
Verizon on quad-play services
During the recent Citi Internet, Media & Telecommunications Conference on January 6, 2016, Verizon's (VZ) executive vice president and president of Product Innovation and New Businesses, Marni Walden, talked about how the company currently views quad-play offerings.
Walden said that "quad plays equal discounts," adding that "we could do that in our FiOS footprint. We could figure out how to partner to do that in places, but that's really not our intent and our direction." She stated that "we did a lot of research with quad plays and combining services and there was also a lot of feedback and a tremendous amount of research that what consumers want to do when they get a quad play, if the bill gets too large, they start to strip services. So I think there is unit churn that can happen from that too."
Article continues below advertisement
Cross-selling opportunities
Unlike Verizon, AT&T (T) is aggressively pursuing combined offerings in the wireline and wireless components. AT&T, the largest US (SPY) integrated player, acquired satellite TV provider DIRECTV (DTV) in July 2015.
As of August 12, 2015, AT&T expected a significant cross-selling opportunity to ~39 million households of this combined entity. As we can see in the above chart, and according to the telecom company, the cross-selling potential for Internet to households with DIRECTV was ~3 million. Meanwhile, the cross-selling potential for wireless services to DIRECTV households was ~15 million, and for video services to AT&T's wireless customers, the potential was ~21 million households.
You may consider investing in the SPDR Dow Jones Industrial Average ETF (DIA) to get diversified exposure to Verizon. The telecom company made up ~1.7% of DIA at the end of November 2015.