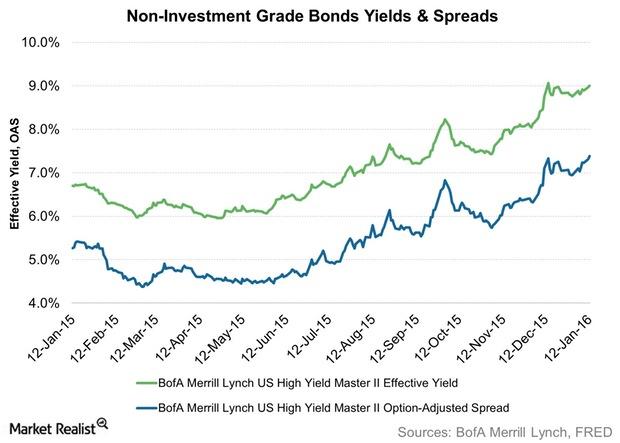 High-Yield Bonds and You in 2016
What are high-yield bonds?
High-yield bonds, also known as junk bonds, are types of debt instruments issued by companies. What makes them high-yield, or junk, and different from other types of bonds, are the ratings issued on them. Rating majors Standard & Poor's, Moody's, and Fitch issue ratings for debt instruments. Bonds with ratings of "BB" and below by Standard & Poor's and "Ba" and below by Moody's are considered to be high-yield.
Article continues below advertisement
The primary reason that high-yield bonds are attractive is because they provide much higher yields than bonds of other classes. For issuers who want to raise money from the market, credit ratings become crucial. If a rating agency rates its bonds as junk, the issuer will not find any takers, until and unless it is willing to offer a higher yield—sometimes a much higher yield—than similar maturity investment-grade corporate bonds and Treasuries.
Should you consider junk bonds in 2016?
Junk bonds, by their very definition, have an iffy repayment ability, even if they are at the higher end of the junk rating scale. In a rising interest rate environment, it can become difficult for high-yield bond issuers to honor their commitments, given the state of their finances. This results in a rise in the probability of their defaulting. Junk bonds resemble equities more than they do bonds, given their boom and bust cycles.
Markets are expected to be more volatile in 2016 than they were in 2015. So, investors with low risk-taking abilities should stay away from these instruments. Those with moderate risk-taking abilities, should they be willing to invest, may wish to go for funds that are invested in the higher end of the junk rating scale. Read this detailed analysis of some high-yield bond mutual funds for further information
The Vanguard High-Yield Corporate Fund Investor Shares (VWEHX) is one such fund. It's invested in bonds of companies such as HSBC Holdings (HSBC), Royal Bank of Scotland Group (RBS), CIT Group (CIT), and Navient (NAVI).
For more adventurous investors, investing in junk bonds may produce that bit of higher yield, should economic conditions stabilize. Otherwise, be prepared for a rocky ride, and remain invested for at least the medium-term.
One aspect that is crucial for investors to monitor in 2016 is inflation. Let's look at that in the next article.