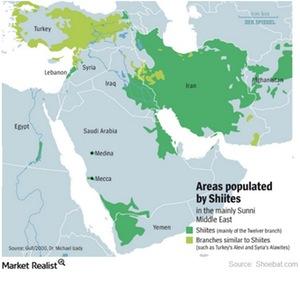 Fall in Crude Oil Demand Could Impact Saudi Arabia the Most
Impact on Saudi Arabia
Arab nations, led by Saudi Arabia, are experiencing less of an impact from terrorism compared to other countries like Syria and Iraq. However, falling crude oil prices could reduce their expenditure on national security. They could be more exposed to terrorist activities in the future. Saudi Arabia also waged a proxy war with Iran in Yemen and Russia (RSX) in Syria.
Crude exports account for more than 85% of Saudi Arabia's revenue. The economy still isn't diversified. Saudi Arabia is already experiencing a high fiscal deficit. If the war intensifies, it could increase the financial pressure on the country.
Article continues below advertisement
A leadership crisis in Saudi Arabia?
Shias form the majority in Saudi Arabia's eastern province. As the economy weakens, it gives the existing Shia community a chance to rebel against the government. The Shias are already complaining about growing discrimination against them. The eastern province accounts for a large portion of the crude oil production. This could fall into the hands of the Shias community in the region. It could impact Saudi Arabia's leadership in Riyadh.
The above graph shows the Shia and Sunni majority in different provinces in Saudi Arabia. Losing the eastern province could impact the transportation through the waterways to other nations. The above graph shows the Shia majority in the Sunni mainland across the Middle East.
Oil marketers based in the US (SPY) like ExxonMobil (XOM), Phillips 66 (PSX), Tesoro (TSO), and others markets get oil from the Middle East.
In the next part, we'll discuss how Russia will likely intensify the war in the Middle East to boost the price of crude oil.