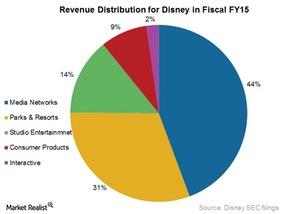 Disney's Business Segments: Expectations for Fiscal 2016
Media Networks
The Walt Disney Company (DIS) is expected to announce its fiscal 1Q16 earnings on February 9, 2016. Now let's see how the company's business segments are expected to perform in fiscal 2016.
As the graph below indicates, Disney's Media Networks segment was the biggest contributor to its revenue at 44% with segment revenues of $23.3 billion in fiscal 2015. This segment earns a majority of its revenues from affiliate fees, advertising revenues, and the ABC television network.
In fiscal 2016, Disney expects its "cable programming and production costs to be up low to mid single digits for the year." It's because in fiscal 2016, Disney's ESPN doesn't have "any major new sports rights contracts kicking in."
However, Disney expects higher programming and production costs in fiscal 1Q16, as the Media Networks segment broadcast six New Year's Eve and New Year's Day college football games in fiscal 1Q16. In fiscal 2Q16, Disney expects these programming and production costs to be in "down high teens."
Article continues below advertisement
Article continues below advertisement
Disney Parks and Resorts
Disney expects to recognize around $90 million of operating income in fiscal 1Q16 in the Parks and Resorts segment due to higher attendance and possibly higher guest spending in the New Year's holiday period. The company expects to recognize another $90 million of operating income in fiscal 2Q16, as the Easter holiday period will fall in fiscal 2Q16 this year.
The company also expects to declare its Shanghai Disney Resort open on June 16, 2016. It will be Disney's first resort in mainland China (FXI). Disney expects pre-opening expenses for the Shanghai resort to be around $300 million in fiscal 2016.
Studio Entertainment
Disney's Studio Entertainment segment has a movie slate in fiscal 2016 that will fully reflect the strength of the company's brand portfolio. It includes Marvel's Captain America: Civil War and The Jungle Book.
Disney Consumer Products and Interactive
Early last year, Disney announced that it will merge two of its stand-alone segments. Disney Consumer Products and Disney Interactive will become Disney Consumer Products and Interactive Media. Disney will report financial results for the newly combined segment in fiscal 1Q16.
The sales of merchandise related to Disney's movie Star Wars: The Force Awakens will be recognized in fiscal 1Q16 for Disney's Consumer Products and Interactive segment.
Disney makes up 0.87% of the SPDR S&P 500 ETF (SPY). For an investor interested in exposure to the computers sector, SPY holds 3.7% of the stock. SPY also holds 3.1% of Apple (AAPL), 2.5% of Microsoft (MSFT), and 1.6% of General Electric (GE).