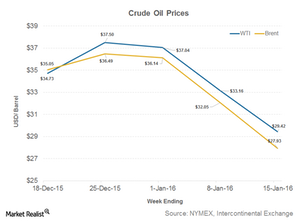 Crude Oil Fell below $30: Positive or Negative for Coal?
Crude oil prices
Crude oil prices dropped significantly during the week ended January 15, 2016. WTI (West Texas Intermediate) crude oil prices closed at $29.42 per MMBtu (million British thermal units) on January 15, 2016, compared to the closing price of $33.16 per barrel on January 8, 2016.
Meanwhile, Brent crude oil prices came in at $27.93 per barrel during the week ended January 15, down from $27.93 as of January 8. The lifting of sanctions on Iran and continued oversupply in the market hurt crude oil prices badly during the week.
Article continues below advertisement
Why crude oil prices matter to coal producers
Although coal and crude oil don't directly compete with each other as fuels, it's still important for coal investors to track crude oil prices. Coal producers (KOL) such as Alliance Resource Partners (ARLP), Arch Coal (ACI), Peabody Energy (BTU), and Cloud Peak Energy (CLD) are affected in various ways by crude oil prices.
In this sense, oil prices are a mixed driver for the coal industry (KOL) in the United States. On one hand, energy stocks including coal stocks generally follow crude oil prices. For example, the fall in crude oil prices during the second half of 2014 led to a sell-off of energy stocks including solar and coal stocks.
On the other hand, a drop in crude oil prices results in a drop in fuel costs for coal producers. A drop in oil prices may encourage US crude oil producers to decrease production, making rail infrastructure available to transport coal.
Key takeaways