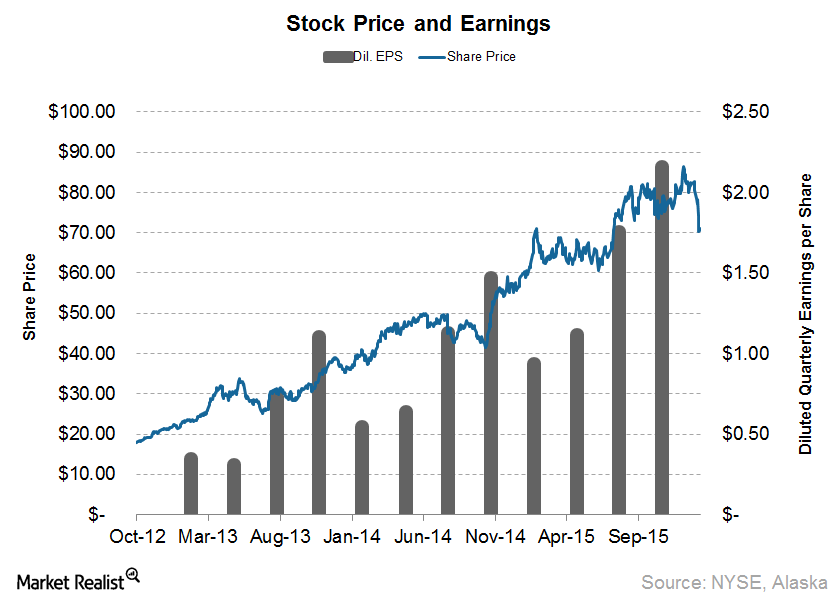 Can Alaska Air Stock Continue Its Stellar Performance in 2016?
Stock movement
Alaska Air Group (ALK) saw one of the strongest positive stock movements during 2015, as it has been able to maintain exceptional operational performance and strong growth throughout the year.
The airline's stock surged by about 40% in 2015. In the same timeframe, the stocks of legacy carriers United Airlines (UAL), American Airlines (AAL), and Delta Air Lines (DAL) moved by -12%, -18%, and 4.7%, respectively, primarily due to pressure on yields and utilization.
Article continues below advertisement
The broader market tracked by the S&P 500 Index (SPY) dipped slightly by ~2% for the year. As airline services compete for consumers' discretionary funds, it makes more sense to compare the airlines' performance with the consumer discretionary sector. The Consumer Discretionary SPDR ETF (XLY) rose by 8% during the year.
However, for 4Q15, ALK's stock increased by just 1.3% as compared to DAL's 13% gains, AAL's 9% gains, and UAL's 8% gains. Where other legacy players have started restraining capacity growth and introducing capacity cuts to ease off pressure on yields, Alaska Air Group has continued its aggressive expansion plan behind only Spirit Airlines (SAVE) and Frontier.
Series overview
Alaska Air Group (ALK) plans to announce its 4Q15 and full year 2015 financial results on Thursday, January 21, 2016. The company had a successful 2014 with record profits of $605 million on revenues of $5.37 billion.
In this series, we will look at what investors can expect for 4Q15 and more importantly, for 2016. We will also discuss key indicators that investors should watch for.