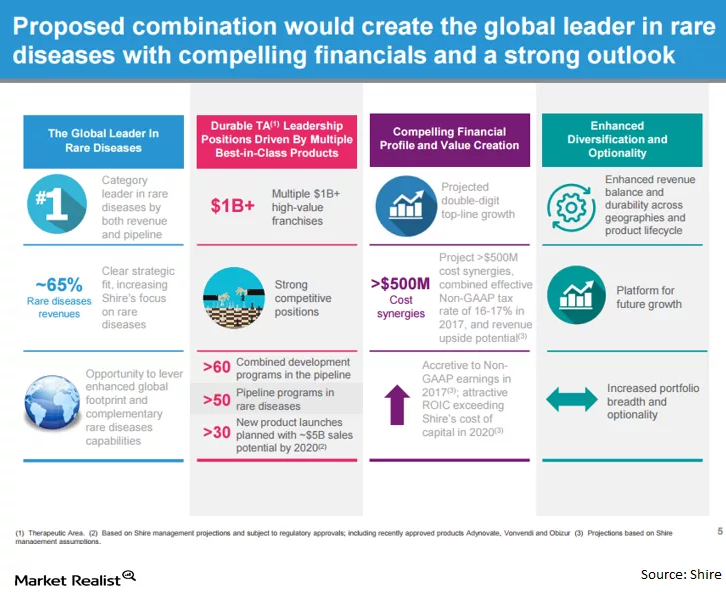 The Baxalta–Shire merger: Basics of Shire Pharmaceuticals
Basics of Shire Pharmaceuticals
Shire Pharmaceuticals (SHPG) is a biopharmaceutical company that focuses on rare diseases. Its primary focus areas are neurological, gastrointestinal, rare diseases and other diseases. See below for a breakdown of these areas.
Article continues below advertisement
Neurological
Shire is best known for its treatments in ADHD, or attention deficit hyperactivity disorder. The primary treatments in this area include Vyvanse, Adderall, Intuniv, and Equasym. The ADHD market is quite large: Just under 10% of US children have ADHD, and the market is estimated to be around $8.9 billion. Internationally, ADHD treatment is expected to be about $1 billion and is growing at 10%.
Shire also includes Buccolam, used to treat epilepsy in children.
Gastrointestinal
Shire's biggest products include treatments for ulcerative colitis and constipation. Ulcerative colitis affects about 1.2 million patients annually. Shire's products for this disease include Lialda/Mezavant and Pentasa. For constipation, Shire's offering is Resolor.
Article continues below advertisement
Rare Diseases and Other
The definition of a rare disease is one that affects 200,000 people or less in the United States. Europeans define a rare disease as something that less than five people out of 10,000 have. Shire's drugs in this category include Replagel for Fabry disease, Elaprase for Hunter's syndrome, Vpriv for Type 1 Gaucher disease, as well as Firazyr and Cinryze for Hereditary Angioedema. Other therapies include Fosrenol for dialysis patients, Xagrid for elevated platelet count, and Plenadren for adrenal insufficiency.
Shire is purchasing Baxalta (BXLT) to add hemophilia to its treatments.
Other merger arbitrage resources