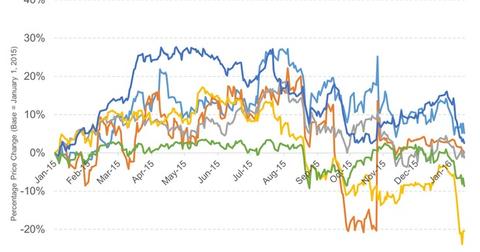 An Analysis of Walgreens Boots Alliance's Stock Returns
By Sonya Bells

Updated
Market capitalization
Walgreen Boots Alliance's (WBA) common stock trades on the NASDAQ under the symbol "WBA." As of January 15, 2016, its market capitalization stood at $86.2 billion and it had a stock price of $80.
Article continues below advertisement
Stock market performance
Walgreens Boots Alliance was a good purchase for its investors in 2015, with the stock yielding returns of around 12% as of December 31, 2015. While its close competitor CVS Health (CVS) gained 3%, Walgreens Boots' medical distribution partner and major US pharmaceutical wholesaler AmerisourceBergen's (ABC) stock price increased by a good 15% during the year.
However, 2016 has not been a good year for healthcare stocks. As of January 15, 2016, WBA has lost 4% YTD (year-to-date), and CVS Health and Rite Aid have lost 3% each.

Walgreens Boots' announcement of the Rite Aid acquisition was well accepted by the market and led to a 6.3% increase in Walgreens' stock price on October 27, 2015, the day of the deal announcement. Rite Aid, however, benefited the most and the company's stock price rose by 43% after the announcement.
Article continues below advertisement
Dividends and share buybacks
Walgreens Boots has been a steady dividend payer. Its annual dividends increased by an average of 20% between 2009 and 2014. In the last fiscal year, following the completion of the Boots Alliance merger, the company raised its dividends by 7%.
While Walgreens Boots has a one-year forward dividend yield of 1.9%, CVS Health's dividend yield stood at 1.7% on January 15, 2016. Rite Aid does not offer dividends.
Walgreens had spent $1.4 billion in cash dividends during fiscal 2015. It also purchased $726 million worth of stock in fiscal 2015. The company plans to have a long-term dividend payout ratio of 30%–35%. Its dividend payout stood at 34% in fiscal 2015 and 63% in fiscal 2014.
ETF exposure
Investors looking for exposure to drugstore companies such as Walgreens Boots Alliance (WBA), CVS Health (CVS), and Rite Aid (RAD) can invest in the Vanguard Consumer Staples ETF (VDC), as these companies together account for 9.6% of the ETF. On the other hand, investors looking for exposure to US-based pharmacy wholesale and distribution companies such as AmerisourceBergen (ABC) and McKesson (MCK) can invest in the VanEck Vectors Retail ETF (RTH), as these companies, along with Walgreens Boots Alliance (WBA), account for a total of 11.8% of the index weight.