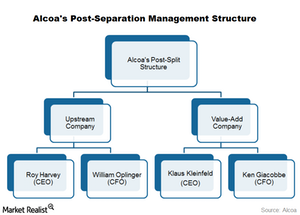 Will Elliott Management Start Taking an Active Interest in Alcoa?
Elliott Management
According to its regulatory filings, Elliott Management plans to engage in a "constructive dialogue" with Alcoa's board about Alcoa's split transaction and "additional available opportunities to maximize shareholder value." Activist investors such as Elliott are known for hands-on management of the companies in which they invest. For example, Carl Icahn has his nominees on the Freeport-McMoRan (FCX) board.
Currently, Alcoa forms ~1.4% of the SPDR S&P Global Natural Resources ETF (GNR).
Article continues below advertisement
Split transaction
We've already looked at some events that could drive Alcoa (AA). Now let's look at some updates on the split into two companies that could also drive Alcoa. According to a CNBC report, Elliott could push Alcoa into selling its power generation unit.
It's worth noting that Alcoa has a captive power generation capacity of ~1550 MW (megawatts). Of this, the company currently uses ~30% for its captive needs. The remainder is sold into the power grid. Rio Tinto (RIO) and Norsk Hydro (NHYDY) also have captive power generation units.
Management structure
Markets are looking forward to any updates on Alcoa's split into two companies. Alcoa has already announced the post-split management structure, as you can see in the above chart. Roy Harvey, the current president of Alcoa's Global Primary Products segment, is expected to serve as CEO (chief executive officer) of the Upstream Company after the split. William Oplinger, Alcoa's current CFO (chief financial officer), is expected to be CFO of the Upstream Company after the split.
Klaus Kleinfeld, Alcoa's current chairman and CEO, will serve as chairman and CEO of the Value-Add company. According to Alcoa, Kleinfeld will continue to serve as the Upstream Company's chairman "for the critical initial phase, ensuring a smooth and effective transition." Ken Giacobbe, current CFO of Alcoa's Engineered Products Segment, will serve as CFO of the Value-Add company.
December promises to be an eventful month for Alcoa. Alcoa needs to end the crucial resistance of $10 to break out of its current trading channel. Investors should closely follow the key events that are scheduled in December to get a sense of Alcoa's future price movement.
Visit Market Realist's Aluminum page to learn more about Alcoa.