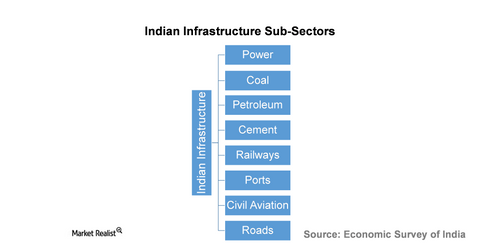 Understanding India's Infrastructure Sector
By Pete Raine

Updated
Introduction
The NDA (National Democratic Alliance) government came to power in May 2014. With big promises of development, the party aimed to push major reforms to help speed up the recovery process. To name a few, the government has been trying to introduce the land acquisition bill, a goods and services tax (or GST), reforms in the banking sector, and reforms regarding retrospective taxation.
In its effort to push growth in the construction and manufacturing sector and to encourage multinationals to set up their manufacturing units in India, the Government of India launched the "Make in India" initiative in September 2014. The government has cleared many stalled projects under the PPP (public private partnership) route. PPP is a mechanism where the government shares the risks and responsibilities along with private investors.
Article continues below advertisement
Defining the infrastructure sector
The infrastructure sector forms the backbone of any economy. According to the Economic Survey of India, infrastructure constitutes nine subsectors: power, coal, petroleum, cement, railways, ports, civil aviation, roads, and telecommunications. Although the Government of India says that there is no clear-cut definition or defined characteristics of infrastructure in Indian data sources, we will restrict our analysis to the subsectors laid down by the Economic Survey of India.
India-focused mutual funds
India-focused mutual funds like the Wasatch Emerging India Fund (WAINX) and the Eaton Vance Greater India Fund – Class A (ETGIX) have their highest exposure in the Indian financial sector. They have, however, a relatively small exposure to the infrastructure-related sectors. The top ten holdings of the ETGIX constitute large-cap banking companies like the ICICI Bank (IBN). The funds also invest heavily in the technology sector (INFY) (WIT).