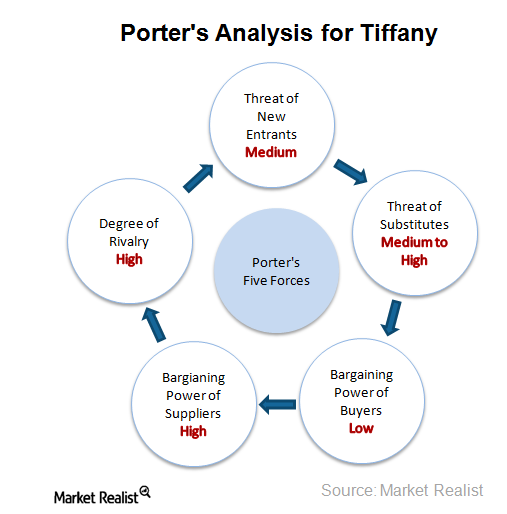 Tiffany's Competitive Position: Porter's Five Forces Analysis
Porter's Five Forces model
Porter's Five Forces model is extensively used for assessing the nature of competition and attractiveness in an industry. The model suggests that there are five forces that determine the attractiveness and long-term profitability of an industry or a sector. These include the following:
degree of rivalry within the industry
threat of substitutes
threat of new entrants
bargaining power of buyers or customers
bargaining power of suppliers
Article continues below advertisement
Degree of rivalry within the industry
Threat of substitutes and new entrants
There are many substitutes in the jewelry industry (XRT) (XLY) with gold jewelry, silver jewelry, gems, stones, fashion jewelry, fine jewelry, and synthetic diamond jewelry.
There are low barriers to entry for an individual wishing to open a jewelry store and run a business locally. These local retailers have further opportunities for repair services. However, small retailers cannot match the branding efforts taken by some large retailers such as Tiffany, Signet Jewelers (SIG), and Fossil (FOSL).
Additionally, small players don't have the operational excellence to offer differentiated exclusive merchandise.
Bargaining power of suppliers and customers
Using its internal manufacturing facilities, Tiffany produces more than half of the merchandise it sells. Tiffany purchases polished diamonds from four key suppliers. The company does not expect a shortage of diamonds in the near term, but long-term increasing demand for diamonds may lead to higher prices unless development of new mines takes place.
Tiffany purchases finished jewelry from 55 suppliers. However, the company may face challenges finding an alternate supply, considering the craftsmanship involved in a small number of designs.
Tiffany has retained great pricing power. Its increasing gross margins show that it passes on its higher input costs to its customers. Tiffany customers are free to shift to any other jeweler, but they may not get the exclusivity of the Tiffany brand.