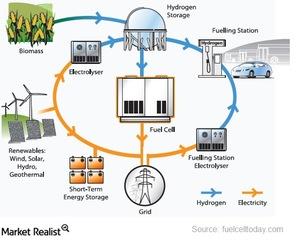 What Paris Climate Agreement Means for Fuel Cells and Solar Energy
Understanding fuel cells and solar energy
Clean energy was one of the important issues in the Paris Climate Agreement, which various nations signed. Fuel cells produce clean energy from a chemical reaction between anodes and cathodes. In contrast, solar energy produces energy from sunlight. After this historic agreement, industries might change their focus. Different nations will try to enhance their exposure to the technology. As the scenario changes, companies operating in this sector may be lucrative for investors.
Article continues below advertisement
Renewable versus non-renewable sources
We're in a digital economy where a change in demand patterns is determined by technology. People want to move with technology and technology requires power in order to run. This clearly illustrates the need for a clean and portable power supply. In this case, the power could come from a fuel cell or solar energy.
FuelCell Energy (FCEL), Plug Power (PLUG), and EnerSys (ENS) are some of the US-based companies that manufacture and operate fuel cells. SolarCity (SCTY) deals with solar energy. ETFs like the Guggenheim Solar ETF (TAN), the PowerShares WilderHill Clean Energy ETF (PBW), and the VanEck Vectors Global Alternate Energy ETF (GEX) invest in renewable energy.
In the next part of the series, we'll analyze the moving averages and analyst estimates for these companies.