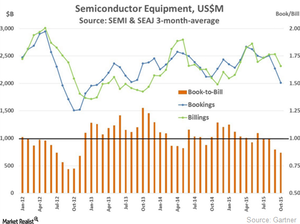 The Outlook for the Semiconductor Equipment Market Is Uncertain
By Puja Tayal

Updated
Vague forecast for SME market
So far, we saw the opportunities and challenges in the global foundry business. Let's now look at the scenario in the SME (semiconductor manufacturing equipment) market. SEMI (Semiconductor Equipment and Materials International) forecasts global SME sales to rise 1.4% YoY (year-over-year) in 2016, after an estimated fall of 0.6% YoY to $37.3 billion in 2015. It expects wafer fabrication (or fab) equipment shipments to grow 2.5% YoY in 2016 after an estimated growth of 0.5% YoY in 2015. However, Gartner paints a different picture for the SME market. It expects fab equipment shipments to continue a downward trend, with a 2.5% YoY fall in 2016, before returning to the growth trajectory in 2017.
Article continues below advertisement
Gartner's forecast is based on the October 2015 figures that fell significantly during the August–October 2015 period, as you can see in the above graph. The research firm expects semiconductor capital spending to fall 3.3% YoY in 2016 due to slow growth in the electronics market and uncertain economic environment. Moreover, it expects DRAM (dynamic random access memory) manufacturers to reduce spending in response to oversupply.
However, SEMI's expectations are based on the assumption that SME sales in Europe (IEV) will grow 63.1% YoY in 2016, boosted by investments from Global Foundries, Infineon, Intel (INTC), and STMicroelectronics (STM). Moreover, China's aggressive growth plans in semiconductor manufacturing would see SME sales rise 9.1% YoY in 2016. Taiwan's UMC (United Microelectronics Corporation), TSMC, and Powerchip are building fabs in China. Even Intel is upgrading its fab in China. However, equipment sales in key semiconductor manufacturing countries— Taiwan and South Korea—would fall in 2016.
Article continues below advertisement
Taiwan, South Korea, and Japan accounted for 60% of the global SME sales in 2015, while Europe and China accounted for only 18%. If the Chinese market fails to perform and growth slackens in Taiwan, South Korea, and Japan as predicted by SEMI, the SME market will post a fall as predicted by Gartner.
M&A trends
Semiconductor consolidation has started affecting the SME market. In October 2015, Lam Research (LRCX) agreed to acquire KLA-Tencor (KLAC) for $10.6 billion.
The uncertain economic environment makes it difficult to predict the SME market's growth in 2016. In the next part of the series, we'll see how 2016 unfolds for IDMs (independent device manufacturers).