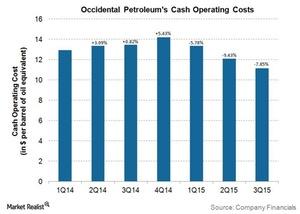 How Is Occidental Petroleum Managing the Falling Energy Prices?
Occidental Petroleum only hedges for stored volumes
According to Occidental Petroleum Corporation's (OXY) 3Q15 10Q filing, the company only occasionally hedges its crude oil and natural gas production, and when it does, the volumes are usually insignificant. So Occidental Petroleum is extremely vulnerable to falling energy prices.
As of September 30, 2015, Occidental Petroleum had approximately 13 billion cubic feet of natural gas held in storage, and the company had hedges for the forecast sale of approximately 6 billion cubic feet of stored natural gas. Occidental intends to fulfill these hedges by physical delivery of natural gas from its storage. The company entered into these hedges to protect its margins on stored volumes.
Article continues below advertisement
Occidental Petroleum's production costs in 3Q15
In 3Q15, Occidental Petroleum's worldwide cash operating cost was $11.15 per barrel of oil equivalent, which is about 18% lower than what the company saw in 3Q14. This production cost is one of the lowest in the industry.
In 3Q15, Occidental's cash operating costs decreased, mainly due to the higher drilling efficiencies and lower energy prices. At international locations like the Middle East, operating costs matter to Occidental because in production sharing contracts, the company always bears all of the operating costs.
Occidental Petroleum's earnings sensitivity to energy prices
According to Occidental Petroleum's 3Q15 form 10Q filing, changes in energy prices affected its quarterly earnings before income taxes by $30 million for $1 per barrel change in crude oil prices and $7 million per $1 per barrel change in natural gas prices. A swing of $0.50 per million British thermal units in domestic natural gas prices affected quarterly pretax earnings by about $15 million.
Other heavy-hitting oil and gas producers