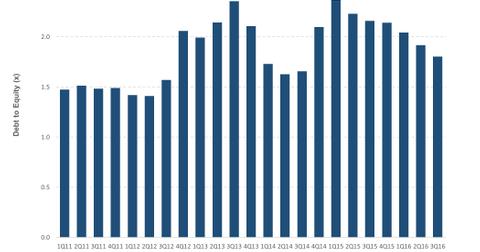 Kroger's Fiscal 3Q16: Earnings Beat Analysts' Expectations Again
By Sonya Bells

Updated
Kroger reports solid earnings per share in fiscal 3Q16
Kroger's (KR) net earnings totaled $428 million, or $0.43 per diluted share, in fiscal 3Q16, compared to net adjusted earnings of $342 million, or $0.35 per diluted share, in the same period last year. This was a rise of 24.6% in earnings per share (or EPS), and it beat analysts' estimates of 13.6% growth by a respectable margin.
Wall Street had predicted Kroger's average earnings to be $0.39 per share, with a lower estimate of $0.36 and a higher estimate of $0.42. The current quarter adds to the positive earnings surprise trend that the company has maintained over the last eight quarters.
Article continues below advertisement
Operating margin performance
Kroger's FIFO (first-in-first-out) operating margin edged up 18 basis points in fiscal 3Q16 as compared to the comparable quarter of the previous year.
Mike Schlotman, executive vice president and chief financial officer of Kroger, noted, "Our operating margin has expanded more than our goal largely due to a combination of two factors. First, continued stronger than expected ID sales, second, the continued incremental investments we are making in our customer-first strategy."
Peer earnings update
Sprouts Farmers Market (SFM) declared its 3Q15 results on November 5, 2015, for the quarter ending September 30. The company posted strong results in both sales and profit. Sales grew by 18%, driven by a 5.8% rise in same-store sales and strong traffic in new stores. Bottom-line performance was also upbeat, with an EPS of $0.21 compared to the market's expectation of $0.19.
Whole Foods Market (WFM) declared its 4Q15 results on November 4, 2015, for the year ending September 27. It reported adjusted EPS of $0.16, missing the consensus earnings estimate of $0.34. For more information, you can read Whole Foods' Same-Store Sales Fell and Profit Missed Expectations.
SUPERVALU (SVU) reported its fiscal 2Q16 results on October 21, 2015, for the quarter ending September 12, 2015. The company's 2Q16 earnings missed expectations, and its EPS stood at $0.13, missing analysts' expectations by $0.01.
ETF exposure
Kroger, SUPERVALU, Whole Foods Market, and Sprouts Farmers Market are included in the holdings of the Fidelity MSCI Consumer Staples ETF (FSTA) and have a combined weight of ~2.6%.