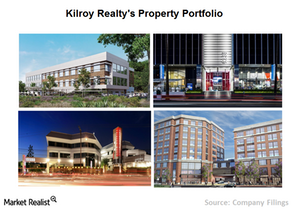 Kilroy Realty Corporation: What Does it Do?
History of Kilroy Realty
Kilroy Realty Corporation (KRC) was founded in 1996 by John B. Kilroy Jr. Headquartered in Los Angeles, California, the company is structured as a REIT (real estate investment trust) and completed an initial public offering in 1997. The company is now the fourth-largest publicly traded office REIT in the United States and is a part of the S&P 400.
Article continues below advertisement
What does it do?
Kilroy Realty (KRC) is a self-administered and self-managed REIT. The company's core business is the ownership of high-quality commercial properties. The company is primarily engaged in the ownership, development, acquisition, and management of real estate assets consisting primarily of class A properties. The company is mainly focused on premier office sub-markets along the West Coast.
Who are its competitors?
Kilroy Realty is one of the largest office REITs in the United States, with a market capitalization of $6 billion. The company competes for rental properties with a number of office REITs, other real estate companies, private real estate funds, financial institutions, pension trusts, and others. The competition for office leasing is mainly driven by factors such as the quality of properties and services provided to tenants, attractiveness of leasing terms, location, and reputation of the company operating the office properties.
Article continues below advertisement
Kilroy Realty's major competitors in the office REIT space include Boston Properties (BXP), Alexandria Real Estate Equities (ARE), SL Green Realty (SLG), Douglas Emmett (DEI), BioMed Realty (BMR), Highwoods Properties (HIW), Equity Commonwealth (EQC), and Columbia Property Trust (CXP). The iShares Cohen & Steers REIT ETF (ICF) invests ~1.4% of its portfolio in Kilroy Realty.
Series content
Kilroy Realty Corporation: What Does it Do?
A Look at Kilroy Realty's Property Portfolio
An Insight into Kilroy Realty's Geographic Coverage
Kilroy Realty: Lease Expiration and Tenant Management
How Property Development Adds Value to Kilroy Realty's Portfolio
Kilroy Realty Acquires Properties for Long-Term Growth
What Is Kilroy Realty's Value Creation Strategy?
Kilroy Realty Enjoys Higher Occupancy Rate in Key Markets
Kilroy Realty's Total Revenue Growth Looks Good
Kilroy Realty: Standing Tall with Highest Earnings Margin
Evaluating Kilroy Realty's Higher Funds From Operations
Analyzing Kilroy Realty's Funds from Operations Payout Ratio
Kilroy Realty: Less Dependent on Leverage
Peer Group Comparison: Kilroy Realty Commands Higher Valuation
Why Does Kilroy Realty Trade at a Higher Valuation than Peers?
Investing in Kilroy Realty through ETFs