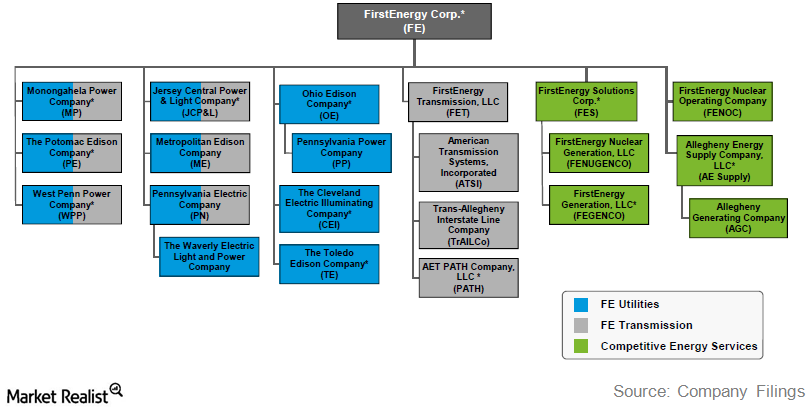 A Key Overview of FirstEnergy's Operating Structure
FirstEnergy's subsidiaries and operating segments
FirstEnergy Corporation's (FE) revenues are primarily derived from electric services provided by its ten operating subsidiaries. FirstEnergy's operational areas cover nearly 65,000 square miles in Ohio, Pennsylvania, Maryland, New York and West Virginia. Notably, the area FirstEnergy serves has a combined population of approximately 13.5 million.
Article continues below advertisement
FirstEnergy's regulated segment and distribution
FirstEnergy has a regulated segment as well as an unregulated segment. The company's regulated segment includes ten subsidiaries. These include the following:
Ohio Edison Company
Cleveland Electric Illuminating Company
The Toledo Edison Company
The Potomac Edison
West Penn Power
Jersey Central Power & Light Company
Metropolitan Power
Pennsylvania Electric Company
Monongahela Power Company
Pennsylvania Power Company
The company's regulated distribution segment distributes electricity through these ten operating companies, and as of mid-December 2015, the business segment currently controls approximately 3,790 megawatts of generation capacity. The regulated transmission segment also operates transmission facilities owned by mainly American Transmission System (ATSI) and Trans-Allegheny Interstate Line Company (TrAIL).
FirstEnergy's unregulated segment and distribution
Unregulated operations are looked after by FirstEnergy Solutions, Allegheny Energy Company, and FirstEnergy Nuclear Operating Company. The regulated transmission segment operates through FirstEnergy Transmission.
Competitive Energy Services, through FirstEnergy Solution and Allegheny Energy, supply electricity to end-users through retail and wholesale arrangements located in Ohio, Michigan, Illinois, and Maryland. Utilities like American Electric Power (AEP) and Exelon Corporation (EXC) also operate in these areas and have exposure in the Utilities SPDR ETF (XLU) and the iShares Dow Jones US Utilities ETF (IDU).
In the next part of this series, we'll look at the key contributors to FirstEnergy's revenues.