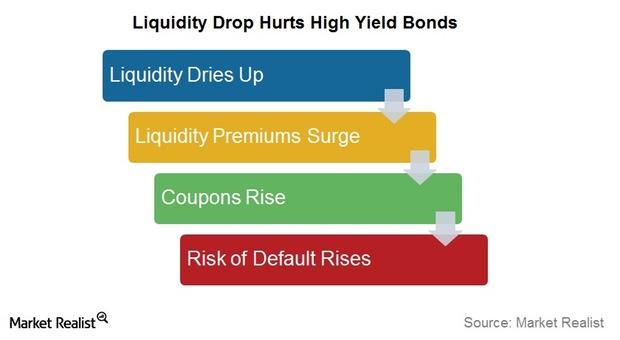 Investors in Junk Bond Mutual Funds Should Worry about Liquidity
Bond market liquidity
We covered various aspects of bond market liquidity in detail in an earlier series. Although "liquidity" isn't precisely defined, it's an important aspect that investors need to look at. It'is important because if liquidity in a market declines, the following repercussions can be seen:
Transaction costs rise – A change in external factors or market structure may lead to a rise in transaction costs for investors.
Long wait to transact – A fall in transaction volumes would lead to a long wait for investors to transact on the market in question.
Price volatility rises – A liquidity squeeze leads to a rise in price volatility as one segment, buyers or sellers, outnumber the other. There are either too many people trying to sell or buy in a given period. However, it's important to note that the logic doesn't necessarily work the other way around. For instance, not all bouts of volatility indicate a liquidity squeeze.
Article continues below advertisement
Liquidity premium
The coupon on a junk bond, and a high-grade bond, commands a liquidity premium, apart from compensating for factors like the time value of money, interest rate risk, and credit risk. The liquidity premium represents the compensation that investors think apt given the difficulty they perceive to face when selling the bond prior to its maturity. A high liquidity risk premium is one of the reasons that junk bond mutual funds (TIYRX) have a higher coupon set on them than high-grade bonds.
If liquidity declines for junk bonds, the liquidity risk premium would rise. This would increase the coupon set on the bond. This will raise the borrowing cost for a company. In difficult times, it could lead to defaults because the company wouldn't able to service the high coupons.
A run-up in junk bond yields led to issuers like Altice N.V., which raised high-yield bonds to fund its acquisition of Cablevision (CVC), paying coupons above 10% to investors. Other issuers who have paid similar high coupons are Olin (OLN), Post Holdings (POST), and Frontier Communications (FTR).
Some investment world heavyweights expressed their opinion on the junk bond market and junk bond funds. We'll discuss this in the next part.