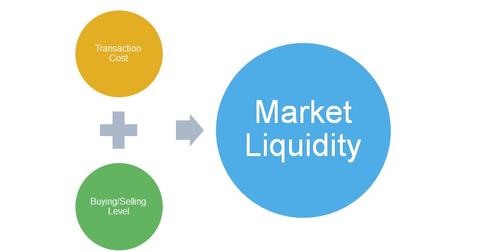 Introducing Liquidity: Must-Know Ins and Outs
By David Ashworth

Oct. 19 2015, Published 3:34 p.m. ET
What is liquidity?
Defining the concept of liquidity is challenging. Liquidity is a concept vital to the smooth functioning of financial markets, even though it's not always completely understood—sometimes even misunderstood. However, it's important for us to outline the concept before digging deeper into it, so let's take a shot.
"Liquidity"—or "financial market liquidity," to be more precise—refers to the ease with which you can buy or sell a security in financial markets at minimal cost. When we refer to cost, we're essentially talking about two things:
transaction costs
buying or selling level
For instance, if you're an investor intending to diversify your investments internationally, you'd be well served to choose modes or markets that levy the least transaction costs for investments in your chosen geography or region.
Article continues below advertisement
As for costs for mutual funds, the expense ratio represents the cost levied on you for using professional management services, while "loads" represent the money that is charged from your investment at the time of buying, selling, or both. You'll find fund houses promoting some of their funds on the basis that they're much cheaper than others (VFINX) (FCNTX).
The other aspect of cost is more subtle but still important. Consider an instance when you have a certain set of securities that you need to sell in a given amount of time, but you're not finding takers at your desired price—a prevailing condition or market structure is forcing you to accept a significantly lower price. The same is the case if you intend to purchase a security at a certain price, but market conditions are forcing you to either accept a very high price or let the transaction go.
Bond market liquidity
Our primary focus in this series concerns bond market liquidity. Bond market liquidity has been center stage for some time now, and this category includes a range of segments:
Treasuries
investment-grade bonds
high-yield corporate bonds
All three of these sections have been talked about as being under strain (CVC) (IRM) (MNK). But before diving into the issue any deeper, let's continue to the next part of this series for a look at why liquidity is so important.