FirstEnergy Relies Heavily on Coal for Power Generation
FirstEnergy generates power from a diverse mix of primary energy sources but is primarily dependent on coal, which accounts for 57% of its power generation.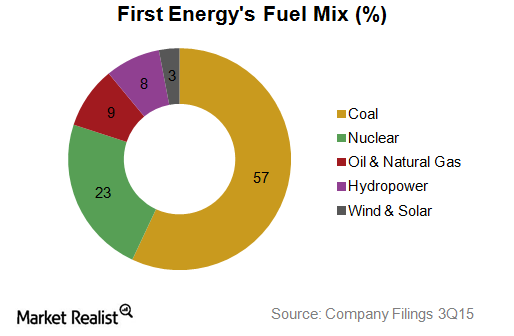 FirstEnergy's fuel mix and capacities
FirstEnergy Corporation (FE) generates power from a diverse mix of primary energy sources. However, the company is primarily dependent upon coal, which accounts for 57% of its total power generation. Notably, FirstEnergys's regulated segment controls 3,790 megawatts capacity while its unregulated segment controls 13,162 megawatts of capacity.
In 2015, nearly 100% of the company's power that unregulated segment generates is expected to have come from cleaner energy sources. This includes energy sources like natural gas, nuclear, scrubbed coal, and renewables. However, scrubbed coal combustion emits a significant amount of carbon dioxide.
Article continues below advertisement
Article continues below advertisement
Who's scrubbing coal and why?
The majority of FirstEnergy's coal-fired generation facilities use scrubbed coal for electricity generation. Coal scrubbing is basically a process of cleaning that removes or minimizes the sulfur content in coal. This is done by FGD (flue-gas desulfurization), a process that removes the sulfur from the flue gas after combustion.
Meanwhile, utilities are striving to switch to cleaner energy sources due to environmental ill effects of coal. Still, coal is a popular traditional primary source of energy as it offers cost competitiveness. Nearly 38% of the total electricity generated in the United States comes from coal (KOL). However, in 2015 we've watched the picture change as utilities shift from coal to nuclear and natural gas for power generation.
Natural gas compared to coal
Nuclear and natural gas (UNG) are secondary fuel sources in FirstEnergy's generation. FirstEnergy derives 23% of electricity from nuclear while 9% comes from natural gas and crude oil. Natural gas prices have corrected nearly 50% from $3 to $1.7 MMBtu (British thermal units in millions) in the last one year. So overall, utilities are preferring natural gas over coal for power generation. And the U.S. Energy Information Agency expects natural gas usage in power generation to continue to increase over coal in coming years.
By comparison, leading utility NextEra Energy (NEE) uses natural gas as its main energy source for generation, leaving coal to account for a mere 3% in its fuel mix. On the other hand, Duke Energy Corporation (DUK) and American Electric Power Company (AEP) use 40% and 60% coal in their fuel mixes, respectively.
Now let's analyze FirstEnergy's operating structure.