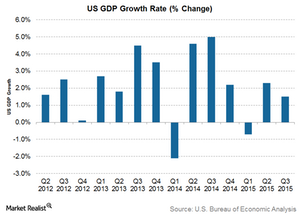 What Is FedEx Management's Outlook for the Future?
Earnings outlook
FedEx's (FDX) management maintained its 2016 earnings outlook, expecting to record earnings per share (or EPS) in the range of $10.40–$10.90. This is a growth of 16%–20%. The company expects the tax rate for the full year to be ~36%. The capex forecast for fiscal 2016 was $4.6 billion.
Increased rates and surcharges, along with profit improvement initiatives, should help the further expansion of FedEx's margins. The company is also integrating FedEx Ground and SmartPost services that should save expenses and improve efficiency and productivity.
The Express segment should continue to benefit from the large holiday volumes. Rising e-commerce is expected to fuel growth in the Ground segment. Both segments are expected to drive FedEx's future growth.
Article continues below advertisement
Industry outlook
E-commerce is changing the transportation industry, leading to exponential growth. FedEx is working to ensure it has the levers in place to continue to benefit from this growth.
FedEx continues to see growth in the global economy. It expects the US GDP to grow by 2.4% in 2015 and by 2.6% in 2016, driven by increased consumer spending.
Industrial production is expected to grow by 1.5% in 2015 and 1.9% in 2016. This could adversely impact the performance of the Freight segment.
UPS dominates the US courier industry, followed by FedEx. Smaller rivals include Air T (AIRT) and Air Transport (ATSG). Other major logistics providers include Expeditors International (EXPD) and Con-Way Freight (CNW). FedEx forms a 2.18% holding of the PowerShares Buyback Achievers ETF (PKW).