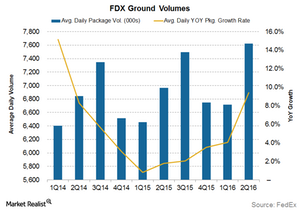 FedEx Ground: Delivering on E-Commerce Growth
Results
FedEx's (FDX) Ground Segment revenue increased by 32% to $4.05 billion compared to $3.06 billion last year. Its fiscal 2Q16 results include GENCO revenues and accounting changes related to FedEx SmartPost revenues that were earlier calculated on a net basis, as compared to gross treatment this year.
Operating income increased by 13% to $526 million, compared to $465 million in 2Q15, mainly due to an increase in base rates and higher volumes. However, its operating margin fell by 2.1% to 13% in 2Q16 due to the accounting change and inclusion of GENCO results.
Article continues below advertisement
Average daily volumes
The number of packages delivered by FedEx Ground on a daily basis, average daily volumes (or ADV) continued to show strong growth in 2Q16. ADVs increased by 9.4% in 2Q16, after recording a 4% growth in 1Q16.
The segment delivered ~7.6 million average daily packages as compared to ~7 million average daily packages in 2Q15. The segment delivered a total of ~480 million packages in 2Q16 as compared to 439 million packages in 2Q15.
Yield
Yield is the revenue earned per package. Yield for the FDX Ground segment continued to show strong growth. It increased by 9.8% to $7.64 as compared to $6.96 earned in 2Q15. This is the ninth consecutive quarter of yield growth for the FDX ground segment.
Outlook
FedEx Ground is being driven by the booming growth in e-commerce, and it contributed to 35% of the company's revenues but 44% of its profits. Factors that have a positive impact include higher base rates, which include additional dimensional weight charges. Management noted that it is focused on improving profitability by increasing both base rates and volume.
UPS dominates the US courier industry, followed by FedEx. Smaller rivals include Air T (AIRT) and Air Transport (ATSG). Other major logistics providers include Expeditors International (EXPD) and Con-Way Freight (CNW). FedEx forms a 2.18% holding of the PowerShares Buyback Achievers ETF (PKW).