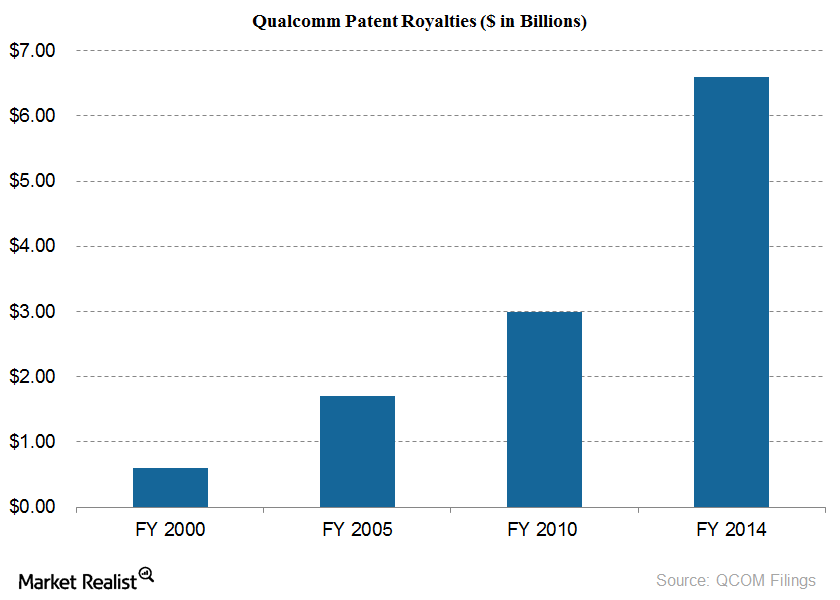 Fair Trade Commission Investigates Qualcomm's Licensing Practices
Company receives Case Examiner's Report
On November 18, 2015, Qualcomm (QCOM) confirmed that it received the Korea Fair Trade Commission's Case Examiner's Report. The Case Examiner's Report states that Qualcomm has not properly negotiated aspects of its licenses. The firm's practice of licensing its patents at the device level violates Korean competition law. The ER specifically stated that Qualcomm collects royalties on the device level and not on the value of components, as the former is much more lucrative.
Article continues below advertisement
Qualcomm will vigorously defend against allegations
In its press release on November 18, 2015, Qualcomm stated that, "Our patent licensing practices, which we and other patent owners have maintained for almost two decades, and which have facilitated the growth of the mobile communications industry in Korea and elsewhere, are lawful and pro-competitive. Device level licensing is the worldwide industry norm, and Korean companies have long enjoyed the benefits and protections of access to our patents, which cover essentially the entire device. We intend to vigorously defend ourselves at the Commission hearings and remain hopeful that the Commission will reject the conclusions of the Examiner's Report. We expect the process to take some time. Until then, we intend to continue to invest in leading technologies that drive the industry forward and share those innovations through its licensing program."
In 2009, the Foreign Trade Commission alleged that Qualcomm gave royalty discounts to device builders who prefer its chips to those of competitors. Qualcomm had to pay $236 million in fiscal 2013 to settle this claim.
In February 2015, Qualcomm was fined $975 million by Chinese antitrust regulators on allegations that the company violated the country's antimonopoly law. IEEE (Institute of Electrical and Electronics Engineers) members such as Apple (AAPL), Microsoft (MSFT), Samsung Electronics (SSNLF), and Cisco Systems (CSCO) spoke out against Qualcomm earlier this year in a bid to reduce royalty fees.
Qualcomm (QCOM) constitutes 0.51% of the SPDR S&P 500 ETF (SPY) and 1.4% of the PowerShares QQQ ETF (QQQ).