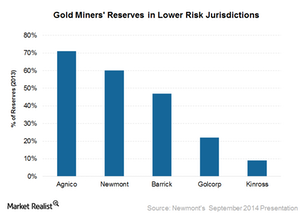 Gold Miners Are Cutting Down on Risky Geographical Exposure
Importance of geographical exposure
While gold miners (GDX) are trying hard to limit their exposure to safe jurisdictions, it's important to look at their geographic exposure and the implications it could have on their future prospects. Operations in safe jurisdictions provide stability to the overall earnings profile with fewer interruptions. The United States, Canada, and Australia are usually considered safer jurisdictions.
Article continues below advertisement
Article continues below advertisement
Diverse geographical exposure
Newmont Mining (NEM) is also quite diverse in terms of geographic exposure. However, it has been trying to sell off its non-core assets elsewhere to increase its exposure to Americas. In Peru, it has to deal with labor problems, water issues, and environmental concerns, in Indonesia, the government's ban on exports of raw minerals impacted Newmont's operations for a significant part of 2014.
Barrick Gold's (ABX) quite diversified globally as far as its operations are concerned. Two-thirds of its revenues in 3Q15 came from North and South America, 22% from Africa, and 12% from Australia-Pacific. One of Barrick's biggest projects, Pascua-Lama, was stalled following an injunction by the Chilean government on environmental grounds. Costs in Africa are higher due to infrastructure requirements, complicated terrain, and political risks.
Operations in safe jurisdictions
Agnico Eagle Mines (AEM) is located in Canada, Mexico, and Finland. It also has exploration and development activities in the United States. These countries are generally politically stable and supportive of the mining industry. Among its senior peers, AEM has one of the best geographic exposures in terms of safe and stable jurisdictions.
Goldcorp's (GG) mines are all in the Americas, and its assets are considered relatively safe.
Article continues below advertisement
Yamana Gold (AUY) has strong exposure to Brazil. Brazil constitutes about 40% of Yamana's revenues. The Brazilian real has depreciated by ~60% over last year. Also, exposure to depreciating currencies for countries such as Argentina, Chile, and Mexico should help its cost structure with currency tailwinds as its hedges roll off in 2016.
High geographical risk
Kinross Gold's (KGC) exposure to Russia has been one of the major reasons for its discount versus peers. Its mines in Russia constituted ~30% of its production in 3Q15. Russia is a risky jurisdiction for mining, given the political uncertainty amid increased tension with the West. In November 2015, Kinross acquired Barrick's Nevada assets to increase its exposure to the Americas.
Much of Agnico and Newmont's reserves are in safe jurisdictions. Kinross has the worst geographic exposure among all the senior peers.
Having looked at gold miners' geographical exposure, in the next part of this series, we'll look at their commodity exposure and its implications.