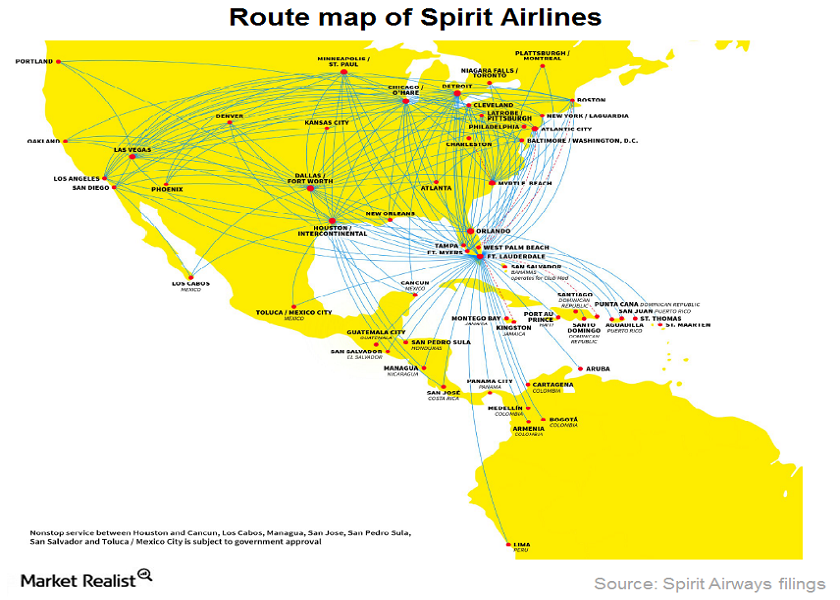 Understanding Spirit Airlines' Low-Cost Business Model
Unbundling services
Spirit Airlines (SAVE) follows a simple business model of reducing base airfares as much as possible. All its other services, like checked bags, carry-on bags, food and drinks, and boarding passes, are charged separately. Spirit Airlines believes that passengers should pay only for the services they use and shouldn't subsidize other passengers' services. The airline believes that its lower fares will stimulate air travel demand by attracting travelers who would have otherwise rented cars, carpooled, or traveled by train and bus. Spirit relies on higher passenger volume to grow its revenues, which also brings in more revenue from ancillary services.
Article continues below advertisement
Routes served by Spirit
Spirit served 57 destinations in December 2014, mainly in the southeast United States, the Caribbean, Central America, and South America. Spirit keeps an eye on revenues and profitability for each route. If any route isn't profitable, Spirit quickly cancels the service.
The large Hispanic population living in South Florida creates demand for locations in the Caribbean, South America, and Central America, making Fort Lauderdale the largest base for Spirit. According to the Centre for Asia Pacific Aviation partners, 19.5% of seats booked from the airport in November 2014 were under Spirit.
Transparent pricing
By allowing customers to see the pricing for all available services, the company brings in a level of transparency unlike many other competitors. Even the company's marketing campaigns focus on its unbundled service offerings and convey a message of being a low-fare airline service. Customers who book tickets using the company's online platform also have an option to compare prices with other airlines.
Low operating costs
Through techniques such as high craft utilization, a high-seat-density configuration, and efficient flight scheduling, the company is able to get more out of each aircraft. The company is also able to save more with less expenditure on sales and marketing expenses by selling directly to customers and outsourcing non-core functions. Spirit Airlines has one of the lowest operating costs per seat in the industry.
To understand how Spirit stands against its competitors, read the following article in this series.
Investors can gain exposure to the airline industry through the SPDR S&P Transportation ETF (XTN), which invests in Southwest (LUV), Delta (DAL), Allegiant (ALGT) and JetBlue (JBLU) in its portfolio.