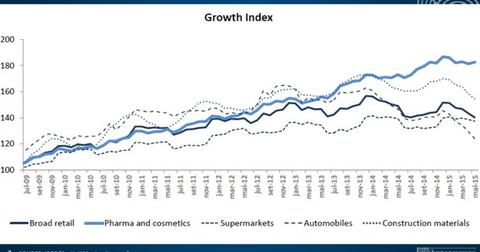 Transaction Analysis: Coty's Purchase of Hypermarcas's Brands
By Phalguni Soni

Updated
Coty's acquisition of Hypermarcas's beauty and personal products brands
Coty (COTY) has been the most active acquirer in the industry over the past year on a bid-to-gain scale. Besides the Procter & Gamble (PG) deal described in the last article, Coty announced its intention to acquire beauty brands in Brazil.
Article continues below advertisement
Hypermarcas transaction
On November 2, 2015, Coty announced that it had entered into a definitive agreement to acquire the beauty and personal products business of Brazilian pharmaceutical company Hypermarcas (HYPMY). The consideration for the transaction is $1 billion. Coty plans to fund the deal using its available cash and credit facilities. The two companies expect the transaction to close by the end of March 2016, subject to the requisite regulatory approvals.
Hypermarcas brands slated for sale
Hypermarcas will sell its cosmetics brands including Monange, Risqué, Bozzano, Paixão, and Biocolor to Coty. Risqué and Bozzano are the market leaders in Brazil in nail color and men's products, respectively. Monange has a portfolio of multiple beauty brands across categories. Paixão is the largest skincare brand in Brazil, which is one of the world's largest skincare markets.
The brands clocked sales of ~977.5 million Brazilian real, or ~$253.5 million, in 2014. The transaction is likely to improve Coty's profitability on a pro forma basis.
Article continues below advertisement
While the companies haven't disclosed profitability, according to Coty's executive vice president and chief financial officer Patrice de Talhouët, the brands are "highly profitable with operating margin above current Coty levels." Coty expects the acquisition to be accretive to its earnings from year two onward.
Transaction valuations
The Hypermarcas deal is valued at 3.9x trailing 2014 sales for the Hypermarcas brands being sold.
Coty, Procter & Gamble, and Estée Lauder (EL) were trading at 2.3x, 2.9x, and 3.0x trailing-12-month sales, respectively, as of November 5, 2015.
Coty and Estée Lauder together constitute 0.24% of the portfolio holdings in the Vanguard Growth ETF (VUG) and 0.52% in the First Trust Consumer Discretionary AlphaDEX ETF (FXD).
The next article discusses the strategic benefits of the Hypermarcas transaction for both Coty and Hypermarcas.