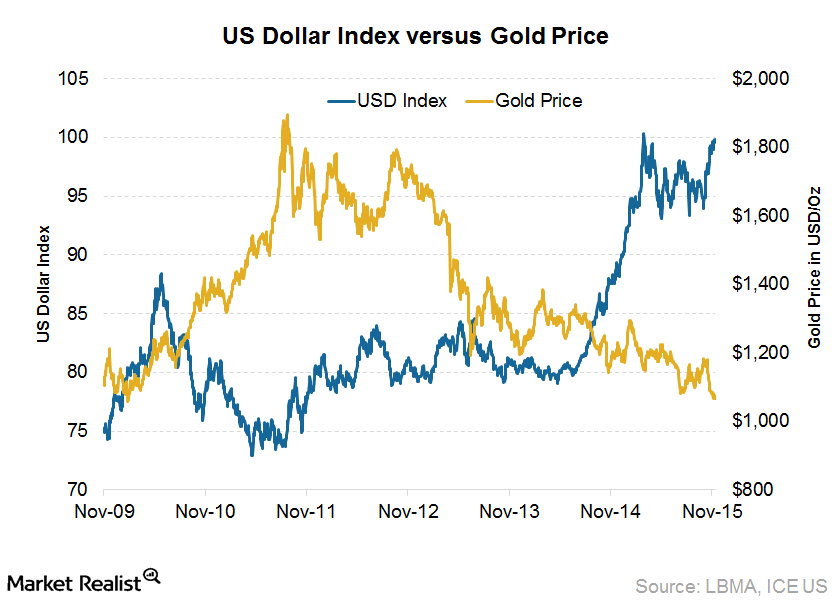 Why the Strong US Dollar Outlook Means Pressure for Gold Prices
US dollar
Tracked by the Federal Reserve, the weekly US Dollar Index (UUP) measures the value of the dollar compared to its six significant trading partners—the euro, Japanese yen, the British pound, the Canadian dollar, the Swiss franc, and the Swedish krona. A rising value means that the dollar is stronger compared to other currencies and vice versa.
Article continues below advertisement
Article continues below advertisement
Relative economic strength
The US dollar (UUP) is back on its ascent with an upward bias. While US economy has yet to enter a phase of full strength, it's still doing better than its major trading partners. The relative economic strength should help propel USD higher.
Diverging monetary policies
The Bank of Japan (or BOJ) kept its policy unchanged despite soft inflation data. Japan's GDP contracted by 0.2% quarter-over-quarter in 3Q15 after a similar contraction in 2Q15. However, the October policy minutes indicated that the BOJ might take additional easing measures if concerns over growth and prices remain.
The minutes of the European Central Bank's (or ECB) October meeting suggested more easing could be on its way. It could consider cutting one of its benchmark rates and enhancing its existing quantitative easing.
The current global environment remains favorable to the US dollar. As the monetary policies of the world's main economies—including Japan, the ECB, and China—remain accommodating, the Fed's stance of tightening could lead to further strengthening of the USD.
Weak commodity prices are also stoking the USD's appreciation against the currencies of emerging market (EEM) countries.
US dollar and gold
Dollar-denominated assets, including gold, are influenced by the dollar's strength. A strong US dollar is negative for gold and vice versa. The current strength in the US dollar is also pressuring gold prices.
As a result, it's important to track the dollar's direction. This can point you towards the direction of gold prices (GLD) and gold stock prices like AngloGold Ashanti (AU), Gold Fields (GFI), and Agnico Eagle Mines (AEM). The US dollar also influences funds like the VanEck Vectors Gold Miners ETF (GDX). Together, these three companies contribute 11.90% to GDX's holdings.