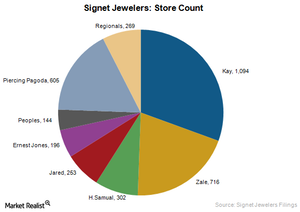 A Snapshot of Signet Jewelers' Divisions and Product Offerings
Division breakdown
Signet Jewelers Limited (SIG) operates mainly under three divisions: the Sterling Jewelers division, the Zale division, which consists of Zale Jewelry and Piercing Pagoda, and the UK Jewelry division.
Article continues below advertisement
The Sterling Jewelers division
The Sterling Jewelers division operates in all 50 states of the United States. In fiscal 2015, which ended for the company on January 31, 2015, the Sterling Jewelers' 1,504 stores accounted for 69.2% of the total revenue. The division operates in malls, outlets, and off-mall locations under the following name brands:
Kay Jewelers
Kay Jewelers Outlet
Jared The Galleria of Jewelry
Jared Vault
Kay alone contributed 41% to the Signet's total revenue.
The Zale division
Signet added this division to its segments after the acquisition of Zale Corporation in May 2014. The division consists of two segments:
In fiscal 2015, Zale operated 972 stores in shopping malls throughout the US, Canada, and Puerto Rico. It includes national brands like Zales Jewelers, Zales Outlet, and Peoples Jewellers, as well as regional brands like Gordon's Jewelers and Mappins Jewellers.
In fiscal 2015, Piercing Pagoda operated 605 mall-based in shopping malls throughout the US and Puerto Rico.
In fiscal 2015, the Zale division accounted for 22.4% of Signet's total revenues.
Article continues below advertisement
The UK Jewelry division
Signet's UK Jewelry division stores operate in major regional shopping malls and prime locations in the UK under name brands like H. Samuel, Ernest Jones, and Leslie Davis. In fiscal 2015, Signet's 498 stores in this division accounted for 8.4% of the company's total revenues.
Other segments
Other segments in Signet include all non-reportable segments, including subsidiaries involved in the purchasing and conversion of rough diamonds to polished stones and unallocated corporate administrative functions.
Signet's largest peers in the industry including (XRT) Tiffany & Company (TIF) and Fossil Group (FOSL) have a presence in the US, the Asia-Pacific region, Japan, Europe, and other countries.
Signet, Tiffany, and Fossil Group all have exposure in the iShares Russell 1000 Growth ETF (IWF) as well as in the iShares Core S&P 500 ETF (IVV). Together, these three companies make up 0.12% of the portfolio holdings of IWF and 0.19% of the holdings of IVV.
In the next part of this series, we'll take a closer look at Signet's Sterling Jewelers division.