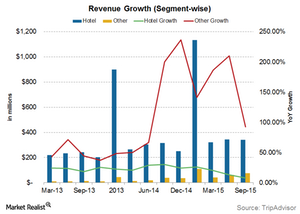 Which Segment Will Continue to Drive TripAdvisor's Growth?
TripAdvisor segments
TripAdvisor (TRIP) reports its financial results in two broad segments: Hotels and Other. In this article, we'll look at the company's segmental performance.
Article continues below advertisement
Hotel segment
The hotel segment is TripAdvisor's main segment, contributing about 82% of the company's total revenues. The company has been aggressively adding hotels to its instant booking platform. The company currently features about seven of the world's ten largest hotels on its platform with the latest additions being Wyndham Hotel Group (WYN) and Marriott (MAR).
The hotel segment saw a strong 8% year-over-year (or YoY) growth in revenues during the third quarter of 2015, which amounts to a 15% YoY growth on a constant currency basis. The adjusted EBITDA also rose by 3% YoY to $121 million along with an adjusted EBITDA margin of 36%. On a trailing-12-month basis, the segment added about $1,003 million in revenues.
If currency headwinds stabilize and hotel shoppers continue to grow, the hotel segment is expected to make a meaningful addition to TripAdvisor's growth in the future. CEO Stephen Kaufer said that the company will focus on improving monetization from hotel shoppers. As half of the company's 350 million users fall under the hotel traffic category, he said, "if we can monetize those hotel shoppers to the degree that any other OTA monetizes the hotel shoppers, that's a really big win for us."
Others segment
The company has been working towards adding more consumers and businesses towards its fast-growing attractions, restaurants, and vacation rentals category and aggressively reinvesting profits to drive market share growth. The others segment currently contributes to about 18% of TripAdvisor's revenues.
The segment saw a stellar 92% YoY growth in revenues, which stood at $75 million for the third quarter of 2015. The segment added revenues of $217 million on a trailing-12-month basis. This growth was primarily driven by the acquisitions the company made in the restaurants business. This was also reflected in an 800% YoY growth in EBITDA and a margin of 12%.
However, CFO Julie Bradley made it clear that this cannot be taken as the new run rate. Also, the segment will witness the typical seasonal slowdown in 4Q15.
TRIP makes up 1.8% of the NASDAQ-100 Ex-Technology Sector Index (QQXT) while TRIP's partner Priceline (PCLN) forms 1.8% of the holding.