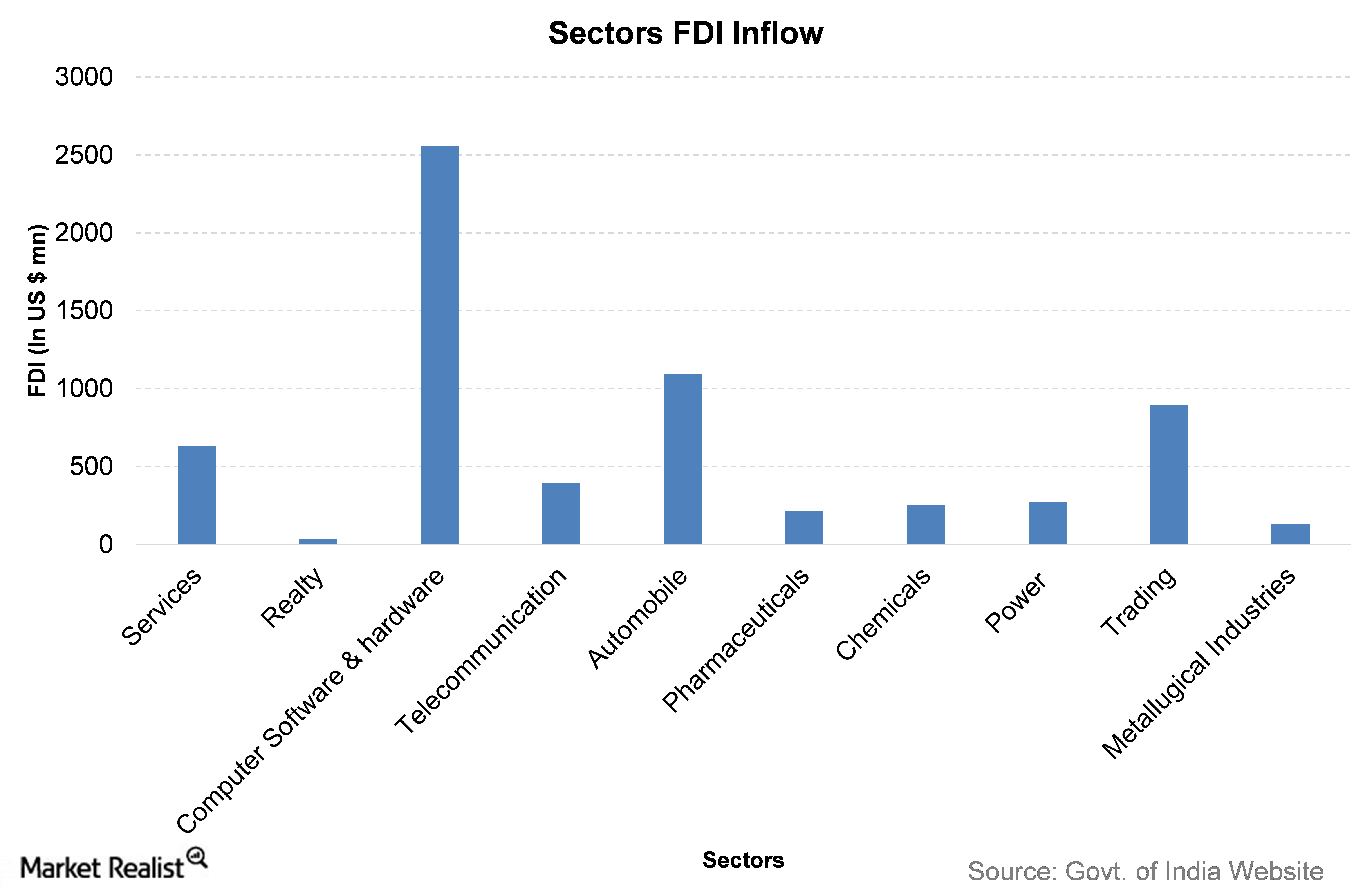 Which Sector Has Attracted the Most FDI This Year?
Sectoral FDI
The FDI (foreign direct investment) reforms that India announced this month provide hope for a revival in many cash-strapped sectors. In this part of the series, we'll take a look at the current FDI in various sectors of the economy. The chart below shows the FDI equity inflow in different sectors.
Article continues below advertisement
Article continues below advertisement
Realty sector is the weak point
Based on the chart above, it is clear that the realty sector has been the least attractive sector for foreign investors. The computer software and hardware (INFY) (WIT) sector was the most attractive sector as far as FDI flow is concerned. In the first quarter of the current fiscal year (April 2015 to March 2016), the computer software and hardware sector received $2,556 million in FDI.
Historically, the services sector has been the most attractive sector for FDI. Cumulative data of FDI inflows since April 2000 show the services sector has received 17% of the total FDI inflows in India. In the current fiscal year, the services sector has received about 10% of the total FDI. The services sector includes financial, banking, insurance, outsourcing, R&D, courier, and technology testing and analysis services.
The effect on mutual funds
The Wasatch Emerging India Fund (WAINX) is an India-focused fund. WAINX has fallen about 4.8% over the last month, as of November 23. In other India-focused funds, the Eaton Vance Greater India Fund Class A (ETGIX) has fallen 5.5% in the last month, and the Franklin India Growth Fund (FIGZX) has fallen 5.7%. FIGZX invests in both ICICI Bank (IBN) and Infosys (INFY).
For more details on mutual funds, please visit our Mutual Funds page.