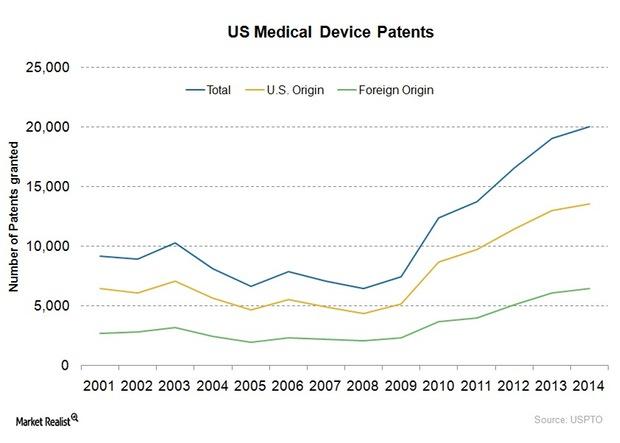 Why Are Patents Necessary for Medical Device Companies?
Medical device patents
Medical device companies are driven by innovation and inventions that involve high research and development (or R&D) costs. To prevent a shift in cost containment measures that involve sub-optimal R&D levels and stifled innovation, it is necessary to protect manufacturers from market failures and low cost manufacturers marketing duplicate products. Patents seek to prevent these problems and stimulate innovation, development, and commercialization.
According to the US Patent & Trademark Office (or USPTO), the total number of patents granted has increased by approximately 169% from 7,443 in 2009 to 19,992 in 2014.
Article continues below advertisement
A patent establishes the right to exclude others from making, using, importing, or selling the invention for a limited period of time, which is 20 years in most countries. It takes approximately 36 months for an application for a patent to be granted, according to the USPTO. US patent grants are not effective outside the United States. If a company seeks to prevent competition in other geographies as well, it has to file a medical device patent application in the required countries.
Geographical profile
The United States is the country of origin for 68% of the granted patents in the US. Japan has the second largest share of patents registered in the United States. Also, Europe has a large number of granted US patents with Germany contributing the most, followed by the United Kingdom and France. As depicted by the graph above, although domestic players dominate the US market, foreign players are gradually entering and eating away the market share thereby posing a long-term threat to domestic players in the US medical device industry.
Patent costs
Patent costs constitute significant investments over the life of the patent. These costs vary depending on factors like the technology and country of patenting. Also, patent costs are higher in cases with complex litigation issues and a high number of claims.
Leading companies in the US medical device sector in terms of the number of granted patents are Medtronic (MDT), Boston Scientific (BSX), General Electric (GE), Johnson & Johnson (JNJ), and Abbott Laboratories. The iShares US Medical Devices ETF (IHI) is one of the major ETFs in the medical device segment.