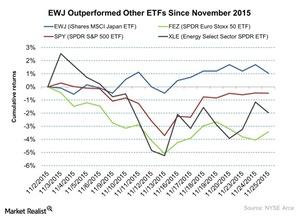 Overall Snapshot of the Market on November 25
FEZ rose by 0.65% on November 25
On November 25, 2015, the SPDR Euro Stoxx 50 ETF (FEZ) closed on a positive note. It rose by 0.65% and closed at $35.8. On the same day, the European Central Bank's (or ECB) officials said that they were considering the two options of lurching charges on banks hoarding cash or a broader bond-buying program in the upcoming ECB meeting on December 3. On the other hand, the US Federal Reserve seems to be moving towards a first rate hike in its December meeting after a decade.
Markets have become more volatile as the world's two largest central banks are heading in opposite monetary policy directions.
Article continues below advertisement
Other global indexes
On November 25, the SPDR S&P 500 ETF (SPY) closed on a flat note ahead of the holiday. It closed at $209.3. The Energy Select Sector SPDR ETF (XLE) fell by 0.81% on November 25. Also, energy stocks ExxonMobil (XOM) and Chevron (CVX) fell by 0.77%, and 0.53%, respectively. The VanEck Vectors Russia ETF (RSX) rose by 1.5% after geopolitical tensions eased a bit. Tension had risen earlier when Turkey shot down a Russian fighter plane on November 24, 2015.
The graph above shows how the Japanese ETF outperformed other ETFs since November. To know more about Japan, please check the article titled "Why Did Japan's Equity Outperform since October?"
EWJ fell by 0.63% on November 25
On November 25, 2015, the iShares MSCI Japan ETF (EWJ) closed on a negative note at $12.5. It fell by 0.63% as the banking index yielded a high negative return with the expectation of a slowdown in overseas and domestic lending in 2016. Banking stocks such as Mitsubishi UFJ Financial (MTU) and Sumitomo Mitsui Financial (SMFG) provided negative returns on November 25, 2015.
In the next part of this series, we'll look at the top performers of FEZ and EWJ and analyze their moving averages.