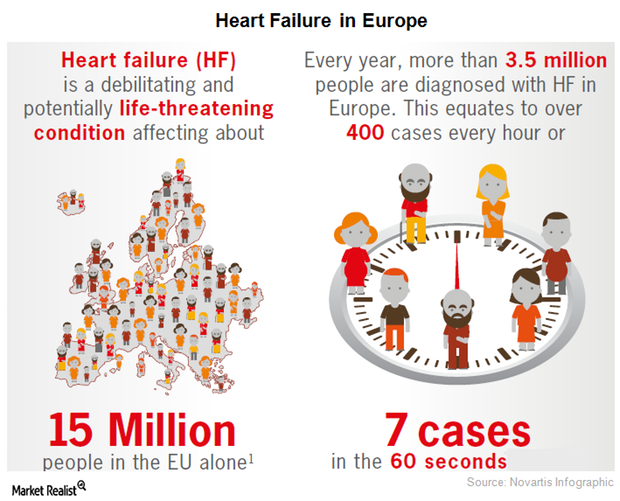 The European Commission Approved Novartis's Entresto
By Margaret Patrick

Nov. 30 2015, Updated 10:30 a.m. ET
European Commission approval
On November 24, 2015, Novartis (NVS) announced that the European Commission (or EC) had approved Entresto (sacubitril/valsartan) as a therapy for adult patients suffering from symptomatic chronic heart failure with reduced ejection fraction (or HFrEF). Entresto has already been approved by the U.S. Food and Drug Administration (or FDA) for HFrEF on July 7, 2015, under the agency's priority review program. If a drug is granted priority review status, the FDA will make a decision on the application in six months instead of the standard ten months. The FDA approved Entresto six weeks ahead of the priority review date, as it wanted to make the drug available to US patients as early as possible.
Article continues below advertisement
Market opportunity
The above diagram shows that in Europe, there are around 15 million patients suffering from heart failure (or HF) and 3.5 million people are diagnosed with HF every year. These statistics indicate the scale of opportunity available for Entresto in the European markets.
According to the American Heart Association, "The ejection fraction (EF) is an important measurement in determining how well your heart is pumping out blood and in diagnosing and tracking heart failure." Entresto is the first therapy that has shown significant benefit in reducing mortality when compared with angiotensin converting enzyme (or ACE) inhibitor therapy, enalapril, in head-to-head trials. Based on its strong clinical profile, Novartis expects the drug to earn peak sales of about $5 billion annually. Peak sales is an estimation of the maximum revenues that a drug can earn in its life cycle.
2015 has also witnessed launches of other major cardiovascular drugs such as Amgen's (AMGN) Repatha and Corlanor, as well as Sanofi (SNY) and Regeneron's (REGN) Praluent.
Investors can invest in Entresto through Novartis, and reduce excessive exposure to company-specific risks by investing in the Vanguard FTSE All-World ex-US ETF (VEU). Novartis accounts for about 0.5% of VEU's total holdings.