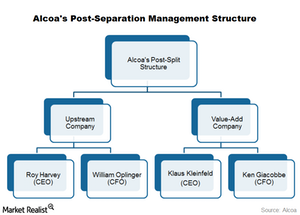 No Surprises in Alcoa's Post-Separation Management Structure
Management structure
On November 24, Alcoa (AA) announced the executive management structure to be introduced following its split. Alcoa's split was announced on September 28 and is expected to be completed by the middle of next year.
Article continues below advertisement
No surprises
The chart above shows Alcoa's post-split executive management structure. Roy Harvey, who is currently the president of Alcoa's GPP (Global Primary Products) segment, would serve as the CEO (chief executive officer) of the upstream company after the split. Alcoa's GPP segment is engaged in primary aluminum production and the segment would form part of the upstream company after the split. William Oplinger, who is currently Alcoa's CFO (chief financial officer), would serve as the CFO of the upstream company after the split.
Value-add company
Klaus Kleinfeld, Alcoa's current chairman and CEO, would serve as the chairman and CEO of the value-add company. However, according to Alcoa, he will continue to serve as the upstream company's chairman "for the critical initial phase, ensuring a smooth and effective transition."
Ken Giacobbe, the current CFO of Alcoa's EPS (Engineered Products and Solutions) segment would serve as the CFO of the value-add company. Alcoa's EPS segment produces value-add precision components for the aerospace industry. The segment competes with companies like Precision Castparts (PCP), Woodward (WWD), and Constellium (CSTM). Currently, Precision Castparts forms 5.2% of the iShares US Aerospace & Defense ETF (ITA). With the announcement of its new executive management structure, Alcoa has moved a step closer to the split.
Meanwhile, aluminum prices have continued to trade weakly. We'll discuss more on this in the next part of this series.