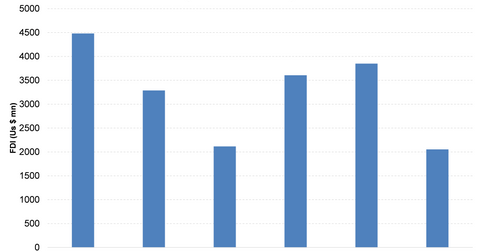 Why India Needed the Major FDI Reforms Announced This Month
By Pete Raine

Updated
India's FDI reforms
On November 10, 2015, the government of India announced major reforms in FDI (foreign direct investment). The government has introduced FDI reforms in 15 major sectors of the economy to boost the inflow of foreign funds. In this series, we'll discuss FDI reforms and their impact on the Indian economy.
The major sectors where FDI norms have been introduced include the defense, broadcasting, civil aviation, banking, manufacturing, construction, and the single brand retail sectors. Through the reform measures, the government aims to channel a higher number of FDI proposals through the automatic route rather than the government route. This would lead to less time and fewer hassles for foreign investors to invest in India.
Article continues below advertisement
Why India needed reforms in FDI?
The NDA (National Democratic Alliance) came to power in 2014 majorly due to big promises of development. The newly formed government was eager to push through major reforms to help speed up the economic recovery process. To name a few reforms, the government has been trying to introduce the land acquisition bill, the GST (Goods and Services Tax), reforms in the banking sector, and reforms regarding retrospective taxation. However, these reforms haven't done much to attract foreign investors.
The global economy is under stress, and an emerging economy like that of India is strongly connected to the global economic environment. Given the economic scenario, the reforms haven't made an impact yet. India-based funds such as the ALPS Kotak India Growth Fund Class A (INDAX) and the Matthews India Fund Investor Class (MINDX) saw dismal returns last month. INDAX and MINDX have fallen 5.3% and 5.5%, respectively, over the last month, as of November 23. Infosys (INFY), HDFC Bank (HDB), and ICICI Bank (IBN) are among the top holdings of INDAX.