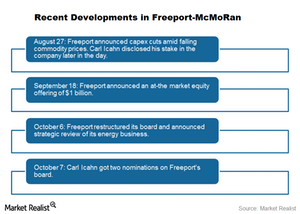 Icahn Lift or Commodity Drag: What Could Drive Freeport-McMoRan?
Icahn lift
Freeport-McMoRan (FCX) jumped smartly in August after activist investor Carl Icahn disclosed his 8.5% stake in the company. Known as the "Icahn lift," this phenomenon sometimes occurs after Icahn buys a stake in a company. The activist investor has a reputation for encouraging company management to make decisions that he perceives to be in the investors' best interests.
Article continues below advertisement
Recent developments
The graph above shows some of the recent developments in Freeport-McMoRan after Icahn disclosed his stake. Currently, the activist investor holds two seats on Freeport's board. In his statement following his representation on Freeport's board, Icahn cited examples of companies like eBay (EBAY), Mentor Graphics (MENT), and Herbalife, whose "shareholder value has been greatly enhanced" after he won board representation.
Would it help?
To be fair, there's not much that either Icahn or Freeport-McMoRan's management can do when commodity prices are hovering at multiyear lows. For its part, the company has taken several aggressive measures, including mine closures and capital expenditure cuts. However, these can only help lessen the pain from falling commodity prices (COMT) (DBB).
Unfortunately for Freeport, even if it breaks off its energy assets, it would not be a smooth ride. Even Freeport's core copper business is going through a rough patch on the back of a Chinese slowdown. To add to that, Freeport has a surging debt pile of $20.7 billion as of September 30, 2015. Freeport was looking to cut its debt next year. However, a continued slowdown in commodity prices could continue to pose challenges for Freeport's optimistic 2016 plans.
Please read Freeport-McMoRan: Why the Current Rally Could be Unsustainable to learn more about the company's outlook.
You can also visit Market Realist's Copper page for the other recent developments in this industry.