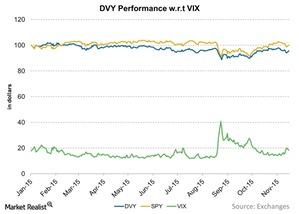 How Has DVY Performed in the Market So Far in 2015?
By Ivan Kading

Updated
Top holdings of DVY
The iShares Select Dividend ETF (DVY) seeks to track the performance of the Dow Jones U.S. Select Dividend Index. The index is generally composed of relatively high-dividend-paying stocks from the S&P 500 (SPY) market universe.
Lockheed Martin (LMT), Philip Morris International (PM), Kimberly-Clark (KMB), CME Group (CME), and McDonald's (MCD) are the top five holdings of DVY. As of November 18, 2015, DVY's average dividend yield was 3.9% higher than many other smart beta funds. The graph below compares the performance of DVY and the market with respect to the S&P 500 Volatility Index.
Article continues below advertisement
Performance comparison
The above graph gives a pictorial representation of the price movement of $100 invested in DVY and SPY simultaneously from January 1, 2015, through November 18, 2015. Apparently, DVY has performed poorly compared to the market. DVY and SPY resulted in a downward trend with an increase in volatility in the market.
After leading in the opening quarter of the year, DVY started lagging the market. The year-to-date (or YTD) return for DVY is -2.7% compared to the market's positive return of 1.4%.
Holding returns
The performance of DVY's holdings determines DVY's investment return. Returns from DVY are divided between the dividend yield and capital appreciation of the stocks. LMT, the top holding of DVY, has given a total trailing 12-month (or TTM) return of 19.2%, with an annual dividend yield of 2.7%.
PM has underperformed with a negative TTM return of 3.4% but with a good dividend yield of 4.8%. Chevron (CVX), one of the top holdings of DVY, has fallen miserably this year by 21.2%, which has significantly affected DVY's performance.
In the next part of the series, we'll provide a fund flow analysis of DVY in order to understand DVY's current demand.