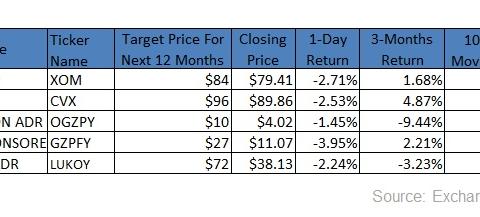 Comparison of US and Russian Energy Companies' Moving Averages
By Rabindra Samanta

Updated
Moving averages
ExxonMobil (XOM) and Chevron (CVX) are trading above their 100-day moving averages by 1% and 4%, respectively. Meanwhile, Gazprom Pao (OGZPY), Gazprom Neft (GZPFY), and Lukoil (LUKOY) are trading 9%, 4%, and 1%, respectively, below their 100-day moving averages.
The US-based energy benchmark, the SPDR Energy Select Sector ETF (XLE), is trading 2% below its 100-day moving average and 3% below its 20-day moving average.
The chart above illustrates the moving averages and forward target prices of these energy stocks. After hitting bottom on August 24, 2015, US-based energy stocks recovered by an average of 28%, whereas Gazprom Pao, Gazprom Neft, and Lukoil rose by an average of 10%.
Lukoil has outperformed its Russian peers, having risen about 15% from the market bottom since August 24, 2015. Chevron has risen about 43% since August 24.
Moving averages are lagging indicators used to confirm an existing trend. When an underlying asset's price is above its longer- and shorter-term average, this indicates an uptrend, and vice versa. Moving averages provide important supports and resistance points for an underlying asset's movement.
Article continues below advertisement
Analysts' estimates
Wall Street estimates suggest that Russian-based energy companies will outperform their US peers by an average upside of 125% compared to 6% in the next 12 months. These estimates indicate upside targets of 142%, 145%, and 88%, respectively, from current prices for Gazprom Pao, Gazprom Neft, and Lukoil.
The current PE (or price-to-earnings) ratios of Gazprom Pao, Gazprom Neft, and Lukoil are 3.8x, 2.2x, and 12.56x, respectively. The PE ratios of ExxonMobil and Chevron are 17x and 18x, respectively.
The estimated PE ratios for next year for ExxonMobil, Chevron, Gazprom Pao, Gazprom Neft, and Lukoil are 19x, 21x, 2.5x, 3x, and 5.6x, respectively. The forward PE indicates that Lukoil is relatively cheaper than its Russian peers as well as its US peers.