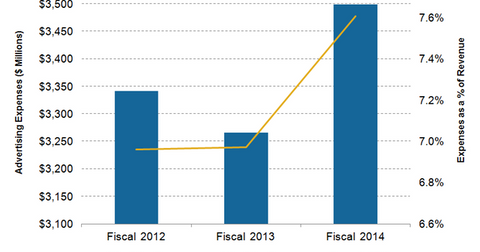 Understanding Coca-Cola's New Marketing Efforts
By Sirisha Bhogaraju

Nov. 30 2015, Updated 8:06 a.m. ET
Marketing costs
Coca-Cola (KO) is using its productivity savings to ramp up its media investments. We discussed the company's productivity initiatives in Part 2 of this series. In the first nine months of fiscal 2015, the company's advertising expenses increased to $3.1 billion, up 15.7% year-over-year. Coca-Cola's advertising expenses represented 9.1% of its revenue in the first nine months of fiscal 2015.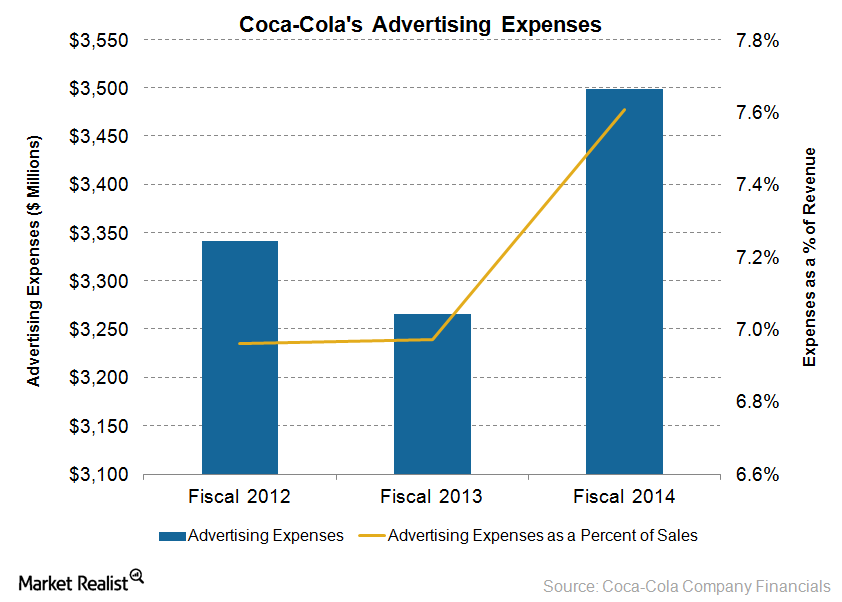 In fiscal 2014, advertising expenses accounted for 7.6% of Coca-Cola's revenue. Coca-Cola makes up 0.9% of the holdings in the iShares S&P 500 Growth ETF (IVW). Advertising and marketing expenses accounted for 5.9%, 7.7%, and 7.0% of revenues for PepsiCo (PEP), Dr Pepper Snapple (DPS), and Monster Beverage (MNST), respectively, in fiscal 2014.
Article continues below advertisement
Marketing campaigns
At the Morgan Stanley Global Consumer and Retail Conference, Sandy Douglas, president of Coca-Cola North America, spoke about Coca-Cola's recent advertising efforts and marketing campaigns. Some of the key initiatives in 2015 are:
The ESPN College GameDay event, which included the company's "You Don't Know Zero 'Til You've Tried It" campaign to promote Coke Zero: The campaign involved "drinkable commercials" with the ESPN College GameDay crew. During the commercial, viewers are prompted to open the Shazam music identification app, through which they can redeem a mobile coupon for a free 20-ounce bottle of Coke Zero at participating retailers.
The company's share-a-coke campaign for the Christmas season: Coca-Cola plans to emphasize its premium smaller packages through this campaign. Smaller packages are in demand, as they're viewed as healthier consumer options. These smaller packages carry higher margins than conventional sizes.
The company is engaging popular celebrities to promote its brands. For instance, the company's Smartwater brand teamed up with actress Jennifer Aniston on its new "up, up, up" campaign. Coca-Cola also launched Sprite LeBron's Mix in collaboration with professional basketball player LeBron James. Sprite LeBron's Mix combines the taste of traditional Sprite with a splash of natural cherry and orange flavors.
Coca-Cola's marketing efforts are an attempt to boost sluggish US soda beverage volumes, which declined for the tenth straight year in 2014.