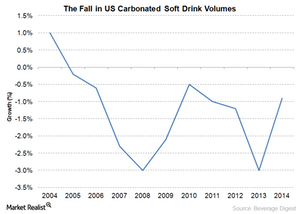 US Soda Update: Case Volumes Decline for the Tenth Straight Year
Soda volumes continue to fall
The March 2015 report issued by Beverage Digest indicates a 0.9% decline in US carbonated soft drink case volumes. CSD (carbonated soft drink) volumes dropped to 8.8 billion 192-ounce cases in 2014. This is the tenth straight year of decline in US CSD case volumes.
The CSD category last registered growth—1% case volume growth—in 2004. According to Beverage Digest, CSD volumes were highest in 2004 at 10.2 billion cases, and have now dropped to mid-1990 levels.
Beverage Digest includes energy drinks in its calculation of CSD volumes. Excluding these, case volumes of soda actually declined by 1.2%.
The sluggish demand for soda drinks in developed markets has adversely affected major soft drink producers including Coca-Cola (KO), PepsiCo (PEP), Dr Pepper Snapple (DPS), Cott (COT), and National Beverage (FIZZ).
In 2014, Coca-Cola's North America Beverage segment's unit-case volume of sparkling beverages declined by 1%. PepsiCo reported a 2% decline in its North America CSD volumes in 2014. But in Dr Pepper Snapple's case, branded CSD volumes increased by 1% in 2014.
According to Beverage Digest's report, Coca-Cola and PepsiCo's overall CSD case volumes declined by 1.1% and 1.4%, respectively, in 2014, while Dr Pepper Snapple's case volumes remained flat.
Article continues below advertisement
The shift in consumer preferences toward healthier beverages has also affected diet sodas. Diet sodas were introduced to attract calorie-conscious consumers. However, the ill-effects of artificial sweeteners such as aspartame have in fact repelled consumers from the diet variants. For instance, Diet Coke's case volumes fell by 6.6% in 2014, while the regular Coke brand gained 0.1%.
To revamp its diet brand, PepsiCo announced in April 2015 that it would replace aspartame in diet sodas with two new sweeteners—sucralose and acesulfame potassium. Rival Coca-Cola issued a statement that it has no such plans to change the sweetener in Diet Coke.
Coca-Cola and PepsiCo feature among the top ten portfolio holdings of the Consumer Staples Select Sector SPDR Fund (XLP) and together account for ~13.6% of the ETF. The two beverage giants also make up ~1.6% of the SPDR S&P 500 ETF Trust (SPY).
Case volumes in 1Q15
In 1Q15, Coca-Cola's North America segment reported a 1% decline in its sparkling beverage unit-case volumes, down from the same quarter the previous year. PepsiCo's America Beverages segment saw a 2% decline in CSD case volumes. Meanwhile, Dr Pepper Snapple's CSD volumes grew by 3% in 1Q15. The quarter also saw an increase in pricing by beverage companies.
In response to such sluggish demand for soda, beverage companies are expanding into non-carbonated beverage categories.