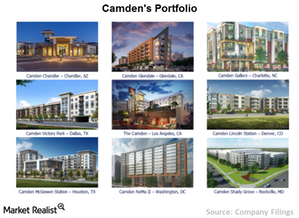 Camden Property Trust: Its History and Its Business
A peek into Camden history
Camden Property Trust (CPT), headquartered in Houston, Texas, was founded in 1982 by Ric Campo and Keith Oden. The company was structured as an REIT and completed an initial public offering in 1993. Camden is now one of the largest publicly traded apartment communities companies in the United States and is a part of an S&P 400 index. Camden's workforce totaled nearly 1,800 as of December 2014.
Article continues below advertisement
Business interest
Camden Property Trust (CPT) is primarily engaged in the ownership, management, development, redevelopment, acquisition, and construction of multifamily apartment communities. As of the end of fiscal 2014, the company had 181 multifamily properties comprised of 63,163 apartment homes across the United States. Of the 181 properties, 13 under-construction properties consisted of 4,215 apartment homes. As of October 31, 2015, Camden's properties declined to 170 and consisted of 59,147 apartment homes. Camden also owns land holdings that it may develop into multifamily apartment communities in the future.
Competitors
Camden Property Trust is the fifth largest apartment REIT in the United States, with a market capitalization of $6.5 billion. The company competes with a number of other US apartment REITs for rental properties. Competition also comes from other forms of rental properties and single-family housing, which provide housing alternatives to potential residents of multifamily properties. Apartment REITs also compete on residents' decisions to own a home or rent an apartment. When home prices are high, renting becomes more attractive, and vice versa.
Article continues below advertisement
Camden's major competitors in the apartment REIT space include Chicago-based Equity Residential (EQR), California-based Essex Property Trust (ESS), Virginia-based AvalonBay Communities (AVB), Colorado-based UDR (UDR), and Tennessee-based Mid-America Apartment Communities (MAA). The iShares Cohen & Steers REIT ETF (ICF) invests 1.6% of its portfolio in Camden Property Trust.
Series content
In this series, we'll be covering the following topics:
Camden Property Trust: Its History and Its Business

An In-Depth Look at Camden Property Trust's Apartment Business

Camden Property Trust's Geographic Diversification Strategy

Camden's Property Development, Redevelopment Add Value

Why Are Acquisitions and Dispositions Important to Camden?

How Camden Plans to Create Value through Strategic Initiatives

Why Camden Has Been Reporting Healthy Revenue Growth

Camden's EBITDA Margin Is Lower Than the Industry Average

Camden Property Trust Reported Highest 2014 Funds from Operations

Camden's FFO Payout Ratio Is in Line with Peers

Camden Property Trust Has Lower Leverage Than Industry Average

Why Camden Property Trust Trades at a Lower Price-to-FFO Multiple

What Does Camden's Lower EV-EBITDA Multiple Mean to Investors?

Investing in Camden Property Trust through ETFs