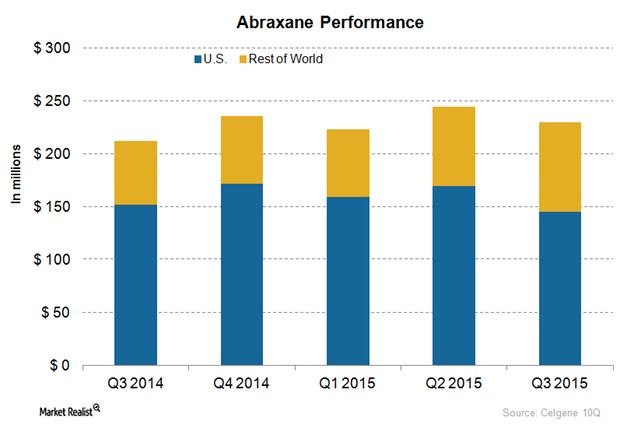 Abraxane Sales Are Lower than Expected in 3Q15
Abraxane's performance
In 3Q15, Celgene's (CELG) oncology drug Abraxane managed to earn revenues of about $229.9 million, an 8.3% rise from the $212.2 million earned in 3Q14. Based on the drug's performance, Celgene has updated its full-year 2015 guidance for Abraxane's revenues to be in the range of $950 million–$1 billion from the previously projected range of $1.0–$1.3 billion.
Abraxane's sales in the US market fell by 4.2% from $151.6 million in 3Q14 to $145.2 million in 3Q15, while the drug's sales in the rest of the world's markets rose by 39.7% from $60.6 million to $84.7 million in the same time period. This drug is tough competition for other cancer drugs such as Novartis's (NVS) Afinitor, Eli Lilly's (LLY) Gemzar, and Roche's (RHHBY) Tarceva (through subsidiary Genentech).
Article continues below advertisement
Article continues below advertisement
US market
Currently, Abraxane in combination with gemcitabine has become the standard of care as first line-therapy for de novo metastatic pancreatic cancer. Abraxane has also managed to reach about 50% of the total patient population suffering with pancreatic cancer in the United States. Celgene expects that Abraxane will continue to gather share in the pancreatic cancer market outside the United States.
In case of non-small cell lung cancer (or NSCLC), Abraxane is facing tough competition from programmed cell death 1 (or PD-1) inhibitor drugs.
Rest of the world's markets
Abraxane is being launched in several European Union markets for pancreatic cancer and lung cancer. The drug has witnessed strong uptake in these international markets.
Instead of directly investing in Celgene and being exposed to excessive company-specific risks, you can invest in the company through the iShares NASDAQ Biotechnology ETF (IBB). Celgene accounts for 8.5% of IBB's total holdings.